Runner Sets Mile Mark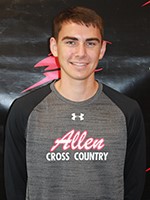 Allen Community College's track team has a long history of being very competitive, but this year brings new success.
Philip Lagemann, a sophomore on the cross country and track teams, broke the school's long-standing open mile record during his first race of the year. The previous record was 4:22 and Lagemann bested it with a time of 4:20. He then hoped to break his own school record sometime this year and did that two times already. He now holds the school open record mile time of 4:18.
That's not the only mark on the leader board he's leaving at Allen. The distance medley relay team trumped the school's record this year by over 10 seconds. Anthony Glasgow was the first leg, running 1200 meters. Carlton Tipley ran 400 meters in thesecond leg, Ryan Yarde handled the third leg of 800 meters. Lagemann closed out the race with a 1600-meter time of 4:14.
Lagemann was also part of Allen's 2016 cross county national championship team and has signed with the University of Saint Mary in Leavenworth to continue his career both on the track and in the classroom.