Softball Team's Hopes Are High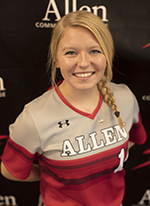 As spring sports begin at Allen Community College, several teams have high hopes for their season. One of those is the Allen Lady Devils softball team. The women have some big goals this year to perform and finish better than the previous year.
Emma Broxterman has several goals for herself and the team. "My expectations are high once we find our chemistry as a team," she said.
The ladies have had a rough start this year with four straight losses. However, with league play starting March 7, they have plenty of time to improve as a team. "We are slowly building it, but we need some workm" Broxterman noted. "Once we play as a team we do great things."
One way they try to improve chemistry and team bonding is writing each other notes. Then on game day they read those notes to boost confidence.
The Lady Red Devils plan to take their schedule by storm. With their goals written down it's time for them to prove themselves on the field.
Broxterman thinks they have the manpower and the will to do so. "It's a positive attitude. We want to play as a family and always perform to the best of our ability," she said.