About Us
The Allen Flame is the official student newspaper of Allen Community College. It is produced by the news practicum class during the fall and spring semesters. The Staff is comprised of several students who have diverse backgrounds and media experience making our product creative and unique.
While our staff selects and writes articles for the Flame, reader input is welcome about story ideas, photograph opportunities, and other suggestions that would improve our newspaper. Send comments or questions to Heather VanDyne, Flame Adviser, at [email protected].
About the Adviser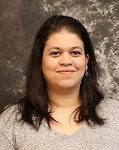 Heather VanDyne, who instructs news practicum and advises the Flame, has been working as the Library Support Specialist at Allen Community College since 2019.
She grew up in Walnut, Calif., in southern California and earned a Bachelor's degree in Communications, specializing in Print Journalism from California State Polytechnic University, Pomona in 2007. She has worked at a newspaper reporter and editor for various newspapers in California and the Kansas City area before moving to Southeast Kansas in 2012.
She hopes to encourage a love of learning and excitement of seeking out information to share with the community at Allen Community College and beyond.