About Us
The Allen Flame is the official student newspaper of Allen Community College. It is produced by the news practicum class during the fall and spring semesters. The Staff is comprised of several students who have diverse backgrounds and media experience making our product creative and unique.
While our staff selects and writes articles for the Flame, reader input is welcome about story ideas, photograph opportunities, and other suggestions that would improve our newspaper. Send comments or questions to Alex Simpson, Flame Adviser, at [email protected].
About the Adviser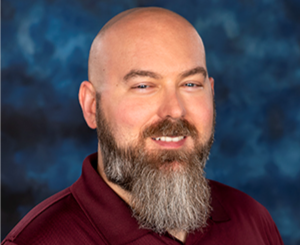 Flame sponsor, Alex Simpson, has a passion for writing with an English degree. Alex has taught composition for several colleges in Missouri, Oklahoma, and Kansas before joining Allen as a full-time employee in 2020.
Alex grew up in Southwest Missouri, near Springfield, MO. He's a veteran of the armed services and has live most of his adult life in Springfield, MO. In 2020, Alex took an advising job at Allen Community College after his wife took a teaching job at Allen. They've spent their time in Iola, building a new life in this unique area.