Team Bonds In Blonde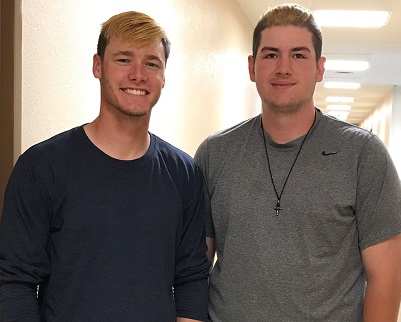 It's no surprise as Allen Community College students have seen their beloved Red Devil baseball team around the school this spring sporting some new hair-dos. The majority of the trend has been rocking the blonde hair under their baseball caps.
The Devils baseball team was looking particularly strong in its first half of the season. They rounded out February and March with a record of 26-9 and were tied for first in their conference with Fort Scott Community College. It was after this that the Red Devils took a turn and were unable to continue their hot streak.
There were some unforeseen injuries of some key players, and the losses led to a serious team morale issue. In spite of this they were still able to make it into the playoffs. This is when they decided a hair and attitude adjustment was necessary.
Austin Cross, a freshman pitcher, said, "The team morale was at an all-time low. In order to finish our season strong we had to do something, thus the blonde hair."
The atmosphere around the Devils improved and they played hard, but unfortunately they were taken out in the first round by Barton Community College.
Even though the season didn't turn out how they had hoped they came out as a closer team at the end with high hopes for next year. The Red Devils ended the season 28-27 overall and 14-22 in conference. The returning players are ready to see the new talent Coach Clint Stoy has in the wings.