Editorial: America, Protect Our Student Journalists
America. Land of The Free. A nation built on hard work, gunpowder, tears and grit. All documented by the media.
Journalists create a history of the American people, and the world. We are the ones that hold our government accountable, celebrate our neighbors, and grieve with our readers and viewers in times of turmoil. When crisis hits, we break out our cameras, and people turn on their TVs or rip open the newspaper with a salient hunger for the lastest news. When most run away from the fire, we run toward it.
We bring people what is real.
So why is it that young journalists on college campuses across America are being threatened by censorship and kept from publishing the truth about their experiences?
The Student Press Law Center (SPLC), which was formed in 1974 and works to defend the First Amendment and press freedom rights of high school and college journalists and their advisers, declared 2019 the Year of the Student Journalist.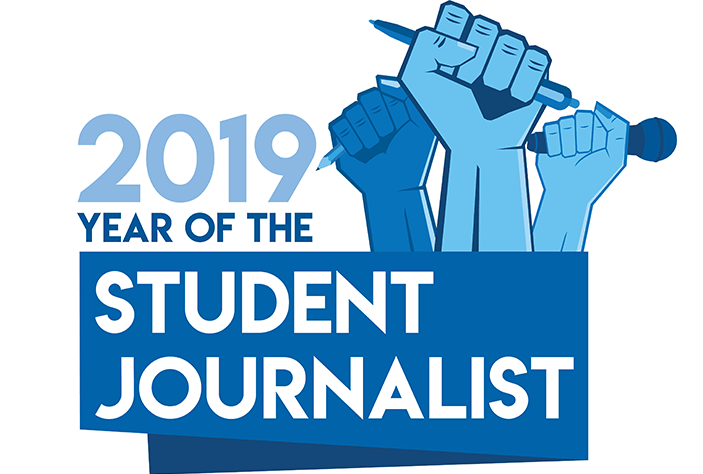 According to the SPLC website there are three goals of the yearlong initiative, supported by the SPLC, Freedom Forum Institute and the Newseum: to raise awareness of the impact student journalists have on their schools and communities, highlight their challenges, and showcase the contribution journalism makes to education.
Student Press Freedom Day, hosted in support of the Year of the Student Journalist, was held Jan. 30 this year and encouraged high school and college newspapers to publish op-eds advocating for press freedom.
There couldn't be a better time to start this conversation. In today's political climate, with opinions being sold as facts on the nightly news and accusations from the nation's administration of "crooked media" and "fake news," journalists are gaining a bad rep. Believe it or not, there are still some journalists that show integrity, and they are speaking up.
According to the SPLC, over fourteen states have passed legislation to protect the press rights of student journalists and their advisers. Grassroots (nonpartisan) movements to have similar legislation passed have begun in many other states.
"
Free speech is either free or it is not. That is what the First Amendment is all about.
— Rep. Francis Rooney
Campus Reform, a  publication that exposes the liberal bias against conservatives at America's colleges and universities, reported that Florida Rep. Francis Rooney (R) introduced a bill mid-March that would "ensure that public higher education protect expressive activities." In the article, Victoria Snitsar reported Rooney saying in a press release that "our freedom of speech should not be confined to designated areas." He went on to say, "Free speech is either free or it is not. That is what the First Amendment is all about."
President Donald Trump agreed, signing an executive order two weeks later stating that colleges that did not protect free speech on campus could lose their federal funding.
TIME
"Even as universities have received billions and billions of dollars from taxpayers, many have become increasingly hostile to free speech and to the First Amendment," Trump said at a White House signing ceremony. "These universities have tried to restrict free thought, impose total conformity and shut down the voices of great young Americans."  
With that being said, our little corner of the world has always, in my opinion, been very accepting of new and diverse points of view. At Allen, if a student has an opinion he or she would like to share, that person can walk right in to President John Masterson's office, or any other administrator's office for that matter. Students can file a formal complaint to Ryan Bilderback, the director of student life and housing, or come to the Student Senate, the student government organization on campus.
This semester, sophomore Imani Lemon even began writing a bi-weekly column in the Iola Register, featuring his opinions on diversity in southeast Kansas. Transparency like that cannot be found in every college town, and as Allen students, we are very lucky.
That I am able to write this today is because Allen and The Flame allow and encourage a free flow of ideas, written and otherwise, as it should.
Journalists, this is our year. Speak up. Tell your stories and don't back down.
America, protect us.