Meet the Board of Trustees
The Allen Community College Board of Trustees play a big role in overseeing operations at the college and affecting change on campus. Perhaps most importantly, the trustees are community supporters and "flag-bearers" for all of the positive things going on at the college.
"Trustees are elected by the community so as in any representative government we should do our best to provide them with our best judgement and efforts on their behalf," said Ken McGuffin, the board chairman. "That doesn't mean that all of our decisions will be met with universal approval; however, we should be diligent in our jobs and make the best decision we feel is right after hearing all sides."
The trustees also set and approve policies for the institution and assist in hiring to carry out those policies. According to McGuffin, the trustees also have an important fiduciary responsibility in making sure all financial records are accurate and transparent, relying on audits and internal controls that the group is briefed on at every monthly meeting.
The board works with area school districts to allow high school students to earn dual-credit through Allen while still in high school, and trustees provide a solid education for students' first two years of college at a much lower cost than if they were to go directly to a four-year university.  The board also collaborates with local industries to provide training for employees.
These highly influential voices, however, are often unknown to Allen students.
Ken McGuffin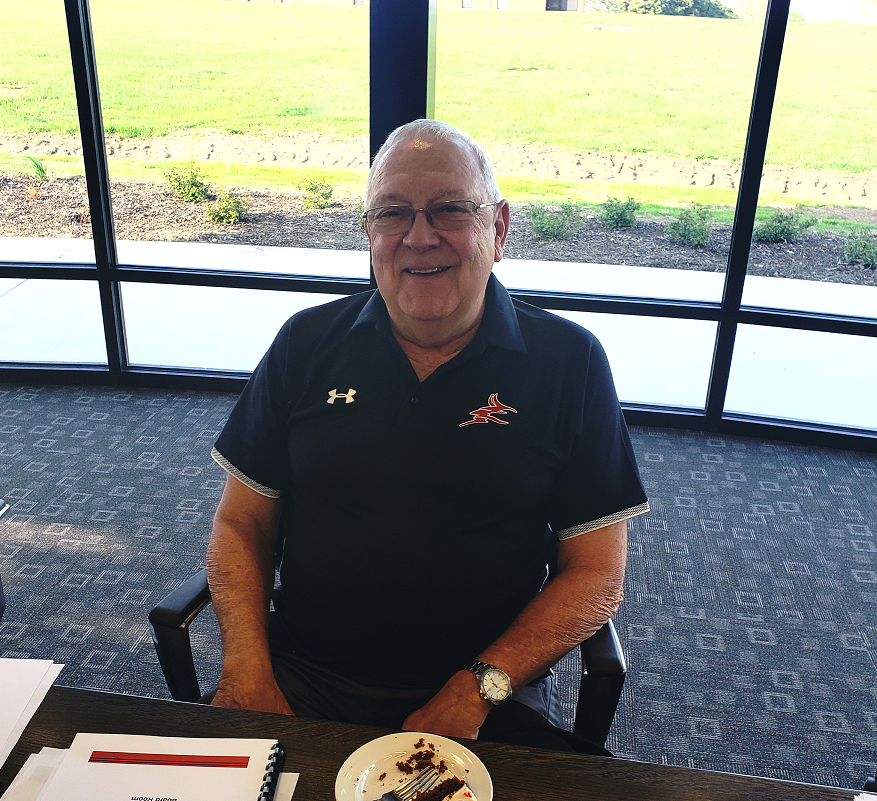 McGuffin is an Iola native raised by an auto mechanic and stay-at-home mom of four. When McGuffin attended Allen, receiving his degree in 1963, the school went by a different name, Iola Junior College, and was in the same building as Iola High School.
"
We need to make sure we all tell our story and get the good word out there about the many good things we do.
— Ken McGuffin
"Community college opportunities are very dear to my heart as they not only provided me a chance to graduate from college, but it was at Iola Junior College where I met my wife of 54 years, Kit," said McGuffin. The couple now have three sons, five grandchildren and two step-grandchildren.
After graduating from Pittsburg State University in 1965, McGuffin pursued a 34-year career as an instructor in area schools.
"My favorite part of being a trustee is connecting again with my educational roots," said McGuffin. "I know first-hand what education meant in my life, and I so dearly want the same opportunities provided for every student who chooses to come to Allen. I feel that we should try to remove as many barriers as we can that would hamper a person from bettering themselves through education."
McGuffin has been a member of Allen's board of trustees for six years, four of which he has served as board chairman. In addition, he has served on numerous boards including CASA, Iola Library Board, Allen County Historical Society, and Friends of the Bowlus and is an emeritus member of the United School Administrators and the Kansas Association of Elementary Principals.
"The one thing that I wish for Allen is to see continued support and involvement with our community," said McGuffin. "We have made many good steps in that direction but still have work to do. I am not sure most of the community really understands just how valuable having a community college in their midst is for so many reasons. We need to make sure we all tell our story and get the good word out there about the many good things we do."
Spencer Ambler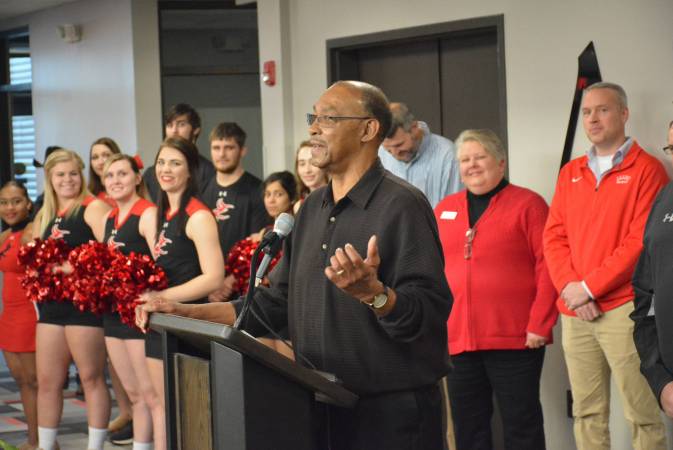 Spencer Ambler is the longest standing trustee, reaching 32 years of service when he finishes this term. One of seven children, Ambler got his start in Chanute. His father worked at the cement plant in Parsons, and Ambler attended Humboldt schools. Ambler and his wife of 52 years, Helen, are known for their charismatic demeanor and bright smiles. 
"
Having the board room named after you makes you appreciate all of the time that you put in after all these years.
— Spencer Ambler
Ambler told the Iola Register in an interview this year that he considers this corner of the state a hidden treasure.
"I tell people all the time, Iola is the best kept secret in the world," said Ambler. "Helen and I, being in Iola, really have been able to do just about anything we've wanted to do. People accept us. And not because of what we do or anything, but because of who we are. We're 'people' people."
In addition to serving as an Army staff sergeant and vice president of the area NAACP, Ambler went on to work for the United States Postal Service and became the postmaster in 1982, one of the first African-Americans in the state to hold that position.
Nowadays, he fills his time with church activities and community involvement.
"I'm a Sunday School teacher, I sing in the church choir, I'm a trustee, I belong to the National Association of Retired Federal Employees and I am a lifetime member of the NAACP, and in my spare time… well I don't bowl anymore because I got too old," laughed Ambler.
In January, the newly built board room at Allen was dedicated to Ambler for his years of service to the college and the community.
"Having the board room named after you makes you appreciate all of the time that you put in after all these years," said Ambler.
He went on to say that he can't pick a favorite memory of his time as a trustee, because there are just too many good ones.
"Every time you think you have your favorite memory another one comes along and then another one comes along," said Ambler. "This (gestures to the board room) is pretty good."
Barbara Anderson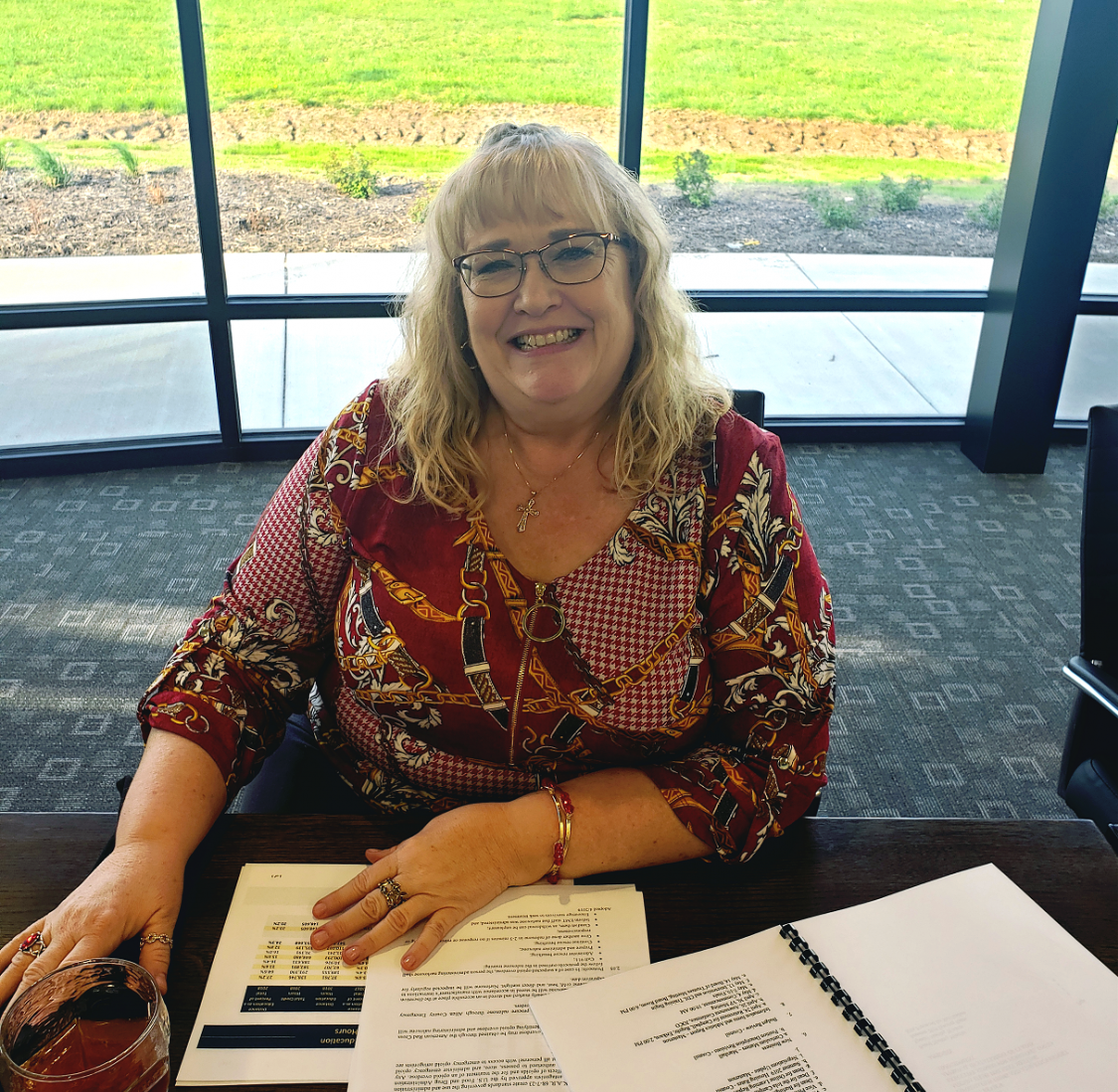 Although Barbara Anderson is relatively new to the board of trustees, currently serving her second year, she is very familiar with Allen County and the college.
"I am proud that my Allen roots go way back, over 50 years," said Anderson. "My father played basketball for the college and graduated from the third floor of the Iola High School building which was Iola Junior College at the time. My sister graduated from Allen County Community College in the '70s, I graduated from Allen County Community College in the '90s and my daughter played basketball and graduated from Allen Community College in 2005. So my family has covered all the college name changes!"
"
There is so much to see and do in Kansas; it has always intrigued me much more than any trip to Disney World!
— Barbara Anderson
She isn't a stranger to hard work, either. Anderson owned and operated a daycare for over 10 years and currently has a part-time property business. She is well versed in education, working as a substitute teacher and serving on both the USD 256 Marmaton Valley Board of Education and the multi-county ANW Special Education Cooperative.
In addition to having been an Iola Register correspondent, Moran librarian, Allen County Hospital clerk, Moran Christian Church secretary and youth group leader in the past, she became the executive director for the Iola Area Chamber of Commerce in 2000. She's participated in many organizations across the county and served on the Allen Community College Endowment Board.
"I have lived in Allen County for all but a few years of my life, with Iola being the largest city I have lived in," smiled Anderson. "There is so much to see and do in Kansas; it has always intrigued me much more than any trip to Disney World!"
Presently, Anderson works as a regional project manager for the Kansas Department of Commerce and assists communities in southeast Kansas with community development and resources to help them increase their quality of life.
"I am very serious about my work and enjoy working with people especially in the rural communities," said Anderson. "I love to see passion for entrepreneurship and find delight in helping grow or even sustain small communities."
She is a proud mother of three and has eight grandchildren who are also fond of our great state.
"When they (my children)  were young our vacations were mostly one-day or weekend trips throughout Kansas," said Anderson. "My family loves the rural communities the best!"  
Neal Barclay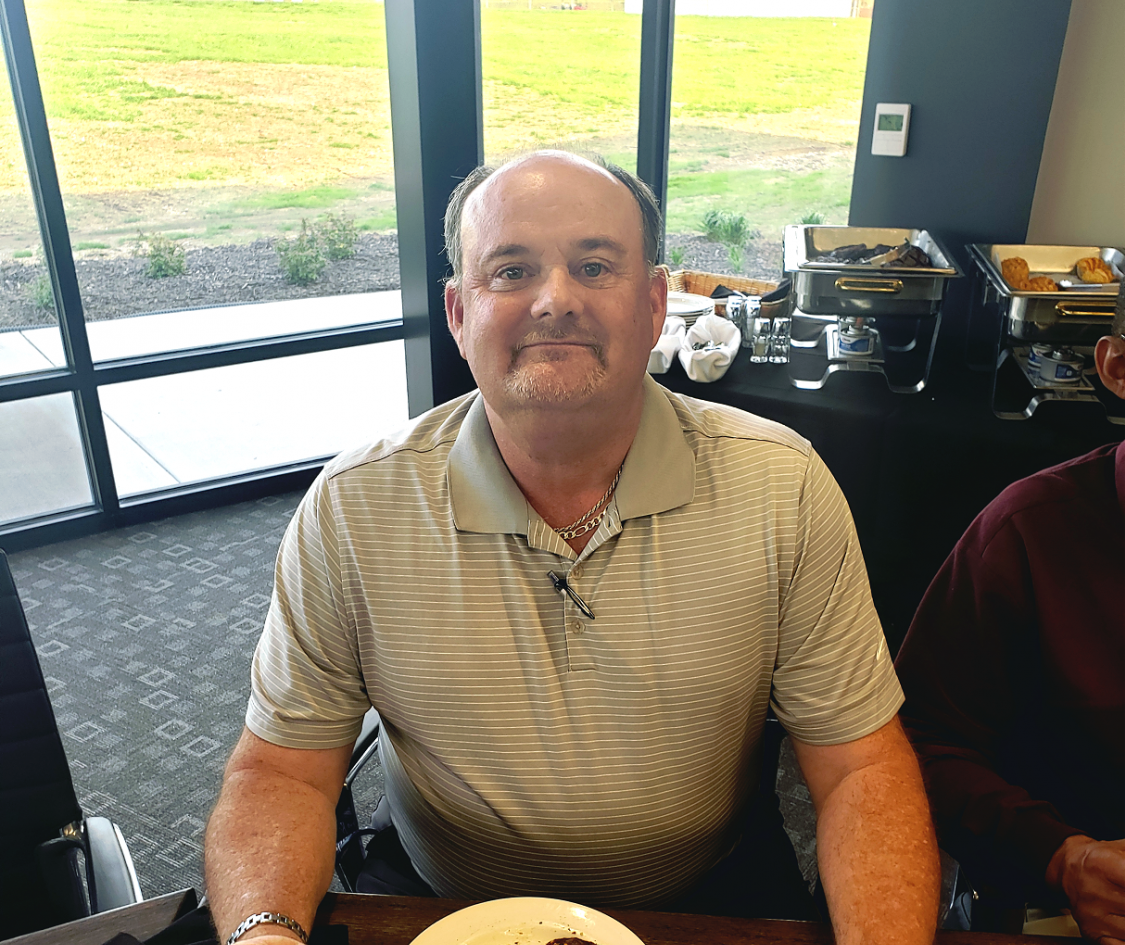 Like most of the trustees, Allen runs in Neal Barclay's blood. His father, Robert Barclay, was one of the first full-time employees hired to teach at Iola Junior College exclusively in 1959, as a chemistry teacher. The name might sound familiar, as students still attend chemistry classes in the A-Complex lecture hall named in the elder Barclay's honor.
"The college has been a part of my life since the day I was born," said Barclay.
Robert Barclay retired from teaching in 1989, but continued to work at the college in other roles, retiring in 2017, with a total of 58 years of service to the college.  
"
It has been an honor to be part of Allen in the various capacities that it has played in my life
— Neal Barclay
Neal Barclay attended Iola High School, Allen, and Pittsburg State University ,earning a bachelor's in business administration in 1987. He has had a long career in banking and real estate, joining the Kansas Bankers Association in February 2017 as a compliance specialist and consultant while working from his home office in Iola.
Barclay has also served as an adjunct instructor at the college and has been a member of the college's endowment board. He and his wife, Marie, have four children, all of whom have attended Allen.
"The biggest challenge has been to adapt the school finances with the various changes in school funding from the State of Kansas," said Barclay. "I feel we have been financially responsible over the years by keeping tuition reasonable, the local tax levy low, while at the same time making numerous improvements to the campuses. The growth over the years in the Burlingame facility, dual credit courses with various high schools and online learning have brought a lot of additional students to Allen."
Barclay, who has served on the board of trustees since 2009, is currently serving his final term.
"I believe the college is an integral part of the community of Iola and provides an affordable two years of quality education," said Barclay.  "It has been great to work with a good administration, faculty and staff, people who really care about the students. It has been an honor to be part of Allen in the various capacities that it has played in my life."
Mary Kay Heard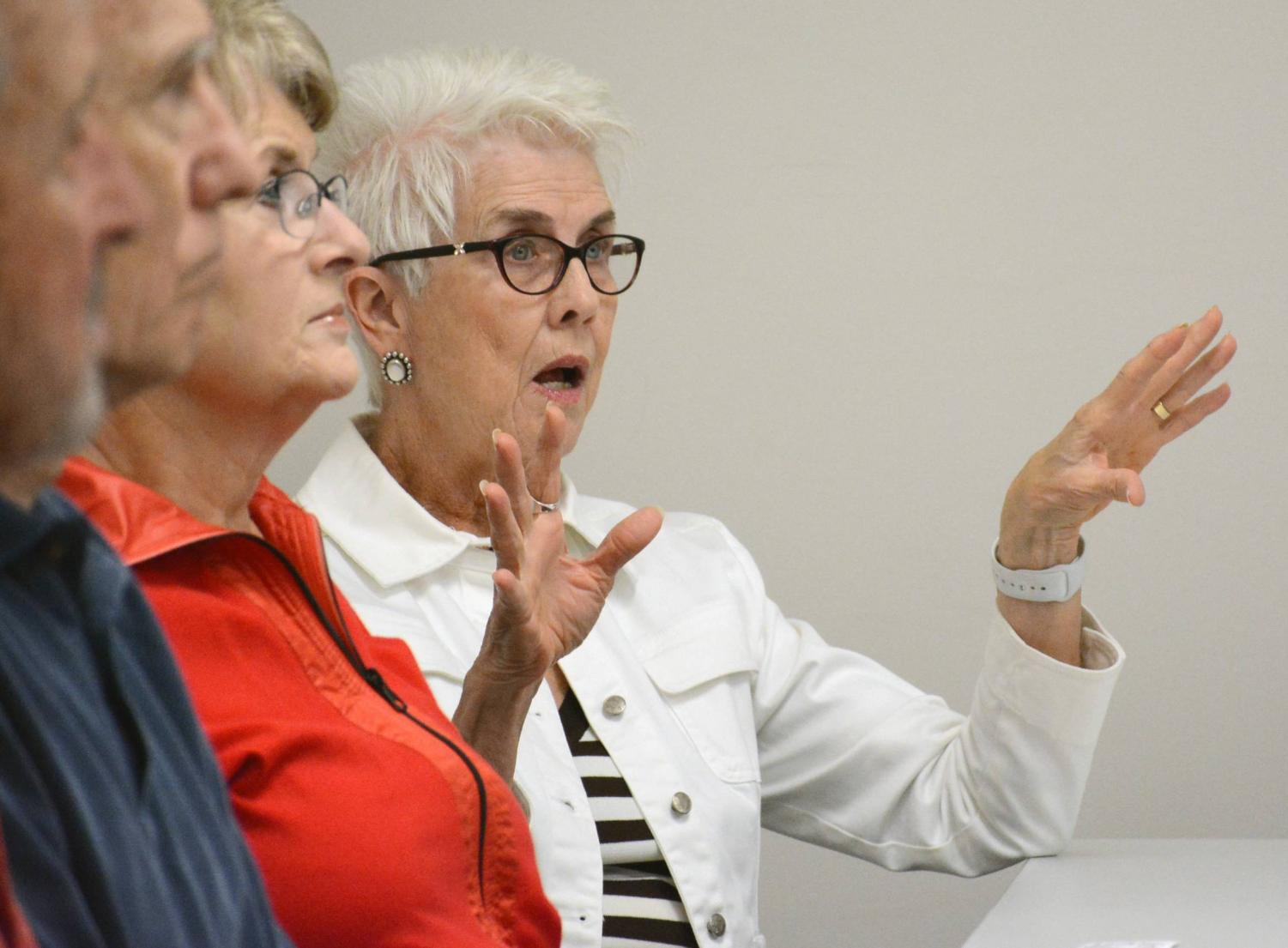 Mary Kay Heard, a local business advocate and four-year trustee, moved to Iola when she was a baby and her parents bought the Western Auto store on the downtown Iola square. Western Auto was in her family and Iola for 65 years when she retired with her husband in 2009.
Heard, also an Iola High School and Iola Junior College alum, has been involved in many local organizations including the United Methodist Church Endowment Foundation, USD 257 Endowment Foundation, the Iola Library Board, the Iola Tree Board and the Chamber of Commerce Board. Additionally, she was the first woman asked to serve on the Iola Industries Board of Directors in 2003 and serves to this day.
"
I am dedicated to this community, its schools, its hospital, its industries, its businesses.
— Mary Kay Heard
In 2010, Heard served on the Hospital Advisory Committee to research the possibility of building a new hospital, and was instrumental in fundraising and campaigning for the completion of the current Allen County Regional Hospital. Most recently, she helped with the successful "YES" campaign to build a new elementary school for USD 257.  
"I was a cheerleader as a kid and continue that role as an adult for my family,  Allen Community College, the town of Iola, and my friends, all of which I love," said Heard. "I am dedicated to this community, its schools, its hospital, its industries, its businesses."
In her free time, she participates in the Coterie Club and the Sorosis Club and enjoys traveling, reading, playing bridge and watching her family participate in activities.
"Although I've always loved the college, being on the board has brought me a much deeper awareness and appreciation of Allen," said Heard. "This board is easy to serve on because things at Allen are so well managed by the administration and instructors."
For Heard, openness has always been a core value.
"I don't think there is much that people don't know about the Allen board; every meeting is open to the public," Heard said, adding with a laugh, "I also don't think there's much that people don't know about me."
Jenny Spillman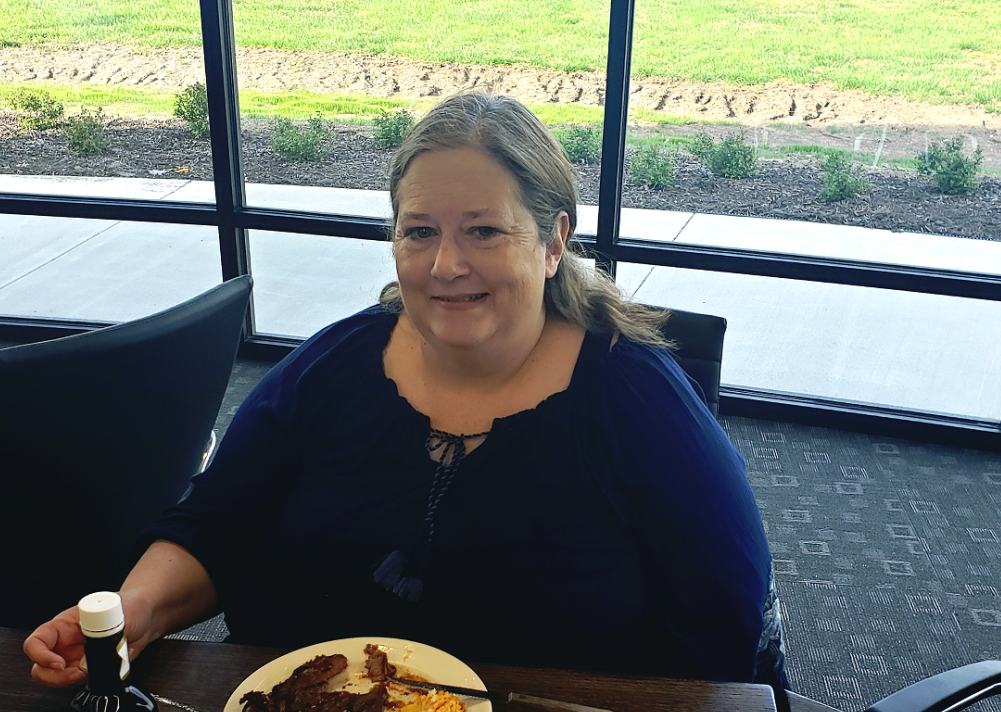 Born and raised in Allen County, Jenny Spillman is from Moran and attended Marmaton Valley schools. Her career in education consisted of positions in Longton, Kan., teaching 5th grade, 1st grade, and serving as the assistant principal. She also worked as an inservice presenter and consultant for Southeast Kansas Education Service Center during her time in Longton.  Wanting to move closer to family, she has now lived in Moran for the past 20 years, teaching kindergarten, 5th and 6th grade mathematics and reading, afternoon preschool, and K-3 technology at Marmaton Valley.  
"
We have outstanding students and employees and I'm thankful that the community has entrusted me to represent them by serving on the Board of Trustees.
— Jenny Spillman
The Allen and Emporia State University grad is currently a licensed superintendent, PreK-12 school administrator and K-9 teacher and serves as the Title I teacher and the scholars bowl coach for both Marmaton Valley junior and senior high schools.
Spillman began her run on the Allen board of trustees in 2005, completing 14 years of service this June.
"I wanted to become a trustee because I felt there was a need for someone to represent the eastern half of the county," said Spillman. " I've always been civic-minded so I decided to take action and volunteer my time to represent the community."
Spillman expressed that although she had two young children at home, her former students at Marmaton Valley often felt like family.
"I was teaching 5th and 6th grade so I wanted to make sure that we had a strong college in the area for my students to continue their education after graduating high school, and I want the best for all of them," said Spillman.
Spillman also shared that being a trustee offered her insight.
"As a taxpayer, I was aware of the amount of money the college cost my family in taxes, but as a trustee, I became aware of the beneficial financial impact the college has on the county," said Spillman. " We employ a lot of good people who in turn spend money in the county.  We also purchase as many goods and services as we are able within the county which helps reinvest local tax dollars back into the community."
After 14 years as a trustee and a lifetime in the community, Spillman shared that it is easy to see the physical changes made to Allen's campus and the technological advances that come with each passing year.
"I can still remember the discussion and apprehension of some of the trustees when we were approached to invest in online classes," recalled Spillman. "Looking back, I am proud that I made the motion to make the investment because Allen was a leader in online learning while other colleges in Kansas were dragging their feet. We have provided a wonderful service to our students by allowing them to take classes online to fit their schedule so that they could work full time but also earn a degree and take classes from anywhere in the world.
"I'm proud of my connection to Allen," Spillman continued. "We have outstanding students and employees and I'm thankful that the community has entrusted me to represent them by serving on the Board of Trustees."