Writers, Thinkers and Dreamers: Allen's Creative Writing Club an Outlet for Students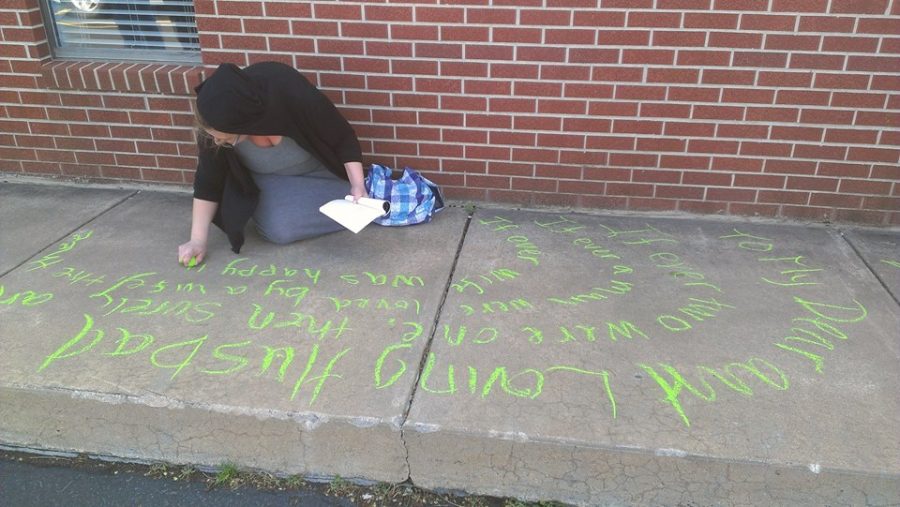 Writers, Thinkers and Dreamers: Allen's Creative Writing Club an Outlet for Students
Hang on for a minute...we're trying to find some more stories you might like.
Allen Community College's Creative Writing Club is a small but growing chapter of students, faculty and staff connected across both campuses and is the primary way for Allen students to get their creative works recognized.
Currently, the club consists of about five active members who meet a few times during the semester; although their meetings are not regularly scheduled, according to Erin O'Keefe, the Creative Writing Club adviser.
"
We are always looking for enthusiastic students who want to hold officer positions or come up with new events or activities."
— Erin O'Keefe
O'Keefe has been teaching English at Allen since 2010. Having taught at Emporia State and Flint Hills Technical College prior to Allen, she teaches most of the English courses at the college's Burlingame campus and is the English division chair.
"We (the Creative Writing Club) are housed in an online Blackboard 'class' where updates are distributed to members through the email and announcement tools. Any student, faculty, or staff member can join – they are just added to the Blackboard group," said O'Keefe. "Our Blackboard group is much larger in numbers."
The club has two primary functions: hosting contests and publishing the Inferno, Allen's literary magazine.
"We have three contests every year – poetry in the fall; short story and open form in the spring," O'Keefe said. The open form contest at the end of the year includes all types of creative works including artwork. Contests are open to all students, and emails are usually sent to both campuses to notify the students about upcoming deadlines.
The Inferno is published every year in May, and is comprised of student work featuring contest winners.The electronic publication can be found on the Allen website under the Activities page (see link below).
THE BIGGEST challenge the club faces, according to O'Keefe, is maintaining interest in the club.
"It is difficult to find a time and venue for events that students want to participate in," said O'Keefe. "It is also nearly impossible to get both campuses together for any kind of activity. Right now the majority of what the club accomplishes is publishing the Inferno."
However, a few years ago the students wrote poems on the sidewalk with chalk, which was a big hit among club members. Similarly, last year they hosted a Christmas party and book exchange.
"It's a challenge to coordinate, but when everything comes together we have a lot of fun," said O'Keefe.
The club welcomes new members to join the Blackboard 'class' called "Beginning Creative Writing," and contribute their ideas and work to the group.
"We are always looking for enthusiastic students who want to hold officer positions or come up with new events or activities," said O'Keefe.
———————————————————————————————————————————
"Like" the Creative Writing Club on Facebook:
https://www.facebook.com/allencreativewriting/
Read past editions of The Inferno, Allen's Literary Magazine:
https://www.allencc.edu/index.php/activities/52-student-life/activities/267-inferno