Longtime English Teacher Enjoys Her 'Neat' Students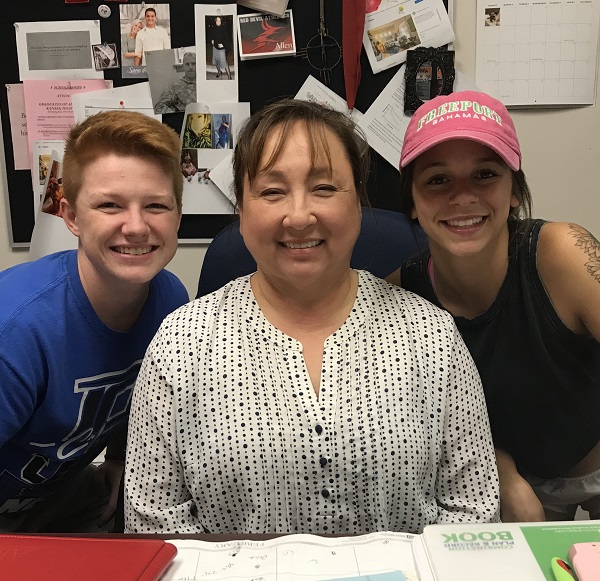 Allen Community College is well known for its academics, but not very many people know what happens behind the scenes. Tracy Lee is one teacher in particular who strives to be the best for her students.
Lee was born in Seoul, South Korea. She was then adopted by a family from Missouri, Kansas. Later in life, she had two kids; one daughter and one son. In Lee's free time she enjoys playing with her two English bulldogs. She also enjoys being with her family, including her extended family.
As a child Lee knew that she would one day be a teacher. Not only has Lee accomplished her goal, but also she's exceeded what she could've ever dreamed of.
Lee started her career at Allen in 1993. In the past 25 years Lee has accomplished many things. From 2000-2007, Lee was an advisor at the college. Later on, she became the head of Phi Theta Kappa (PTK) chapter at Allen, a position she still holds.
Lee enjoys the impact she's making on students' lives.
"It's a big transition from high school to college. I enjoy meeting all the neat students," said Lee.
Lee has taught or is currently teaching Sociology, English Composition 1, English Composition 2, American Literature and Children's Literature. By teaching this many classes she has impacted thousands of students.
Ryan Munch, a sophomore at the college, recollects his time in Lee's classes.
"They're easy going and she explains everything thoroughly. Her classes are more fun than your normal lecture class," Munch said.
Lee plans to continue at Allen Community College for the foreseeable future and to continue leading PTK and teaching a variety of different classes.