Hopeful for Hoops
Hang on for a minute...we're trying to find some more stories you might like.
As the month of October begins, the start of the men's basketball season comes in full force. The boys began with an exhibition tournament the weekend of Oct. 7 at The University of Central Missouri and came out with wins against North Platte Community College and Johnson County Community College. This tournament was their first exposure to see how the team performs as a whole, and the team believes that they played well and will grow throughout the season.
Going from high school to college basketball can be a huge transition. Freshman guard Wesley Anderson Jr. is excited for this upcoming season and performing at a higher level.
"I am looking forward to this new experience and building a better bond with my teammates. I think that we have a lot of a potential as a team and we will grow together. This first tournament really showed me what this season is going to be like and I'm pumped to see how this year will go," Anderson said.
For this year and next year, Anderson hopes to grow as a player and grow mentally to become a stronger and smarter asset to the team. 
"
As a team we're all locked in and we have the same mindset which is to win and play for one another. I feel like this year's team has good chemistry and we will all grow individually, and as a team."
— Cordy Winston
At the previous tournament at UCM, the players were finally able to see how they achieved working together as a team against other teams.
"As a team, I think that we did decent, we have lots of things to work on, but overall I think that we did well and will come a long way this season. Being a close team is very important to be able to excel in games and I think that as the year progresses, we will become a strong team," Patterson said.
Ever since he was in fourth grade, Patterson dreamed of taking his basketball career to the next level and he is thrilled to see what this year and his upcoming years will bring him.
Sophomore point guard, Cordy Winston, prays as a ritual before games, then later blasts music in the locker room with the team to get pumped, focused and ready for each game.
"As a team we're all locked in and we have the same mindset which is to win and play for one another. I feel like this year's team has good chemistry and we will all grow individually, and as a team," Winston said.
Winston hopes for the team to finish top eight in the conference and is excited to help lead the team this year with the experience he has from last year's season.
This year, sophomore Cole Silsby believes that he and the team did well at the first exhibition tournament.
"This is the first real action that we have had this year and it was really good for us to see what we all had to work on individually and as a whole. Overall I think that we need to work on not letting other teams rush us, we just have to keep in our game plan. We just need to be mentally better than our opponent on our offensive and defensive end," Silsby said. For this year, Silsby hopes to become a better leader and make a positive impact on the team.
This year, the team has over ten home games and they hope to see everyone in the bleachers cheering for the Red Devils. The team is filled with players hungry for wins and hope to make it far in the regional tournament and then to the national tournament.
"Be on the lookout for us this season, we're determined to make it a good one," Winston said.

About the Photographer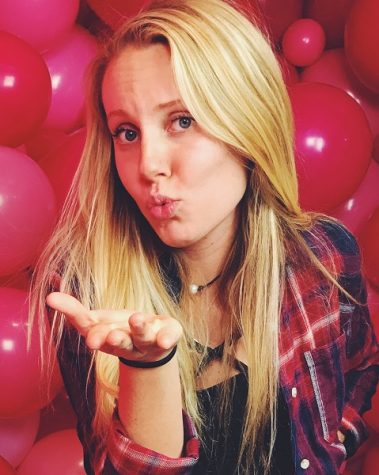 Nikayla Kussatz, Health Editor
New to the Allen Flame staff this year is freshman Nikayla Kussatz from Gardner, Kan.. Kussatz attended Gardner-Edgerton High School where she was active in her school's yearbook class while also playing softball and volleyball. While in high school she was able to get some experience in the newspaper due to her helping out with...