Join the Halloween Trend in Custom Cardboard Chic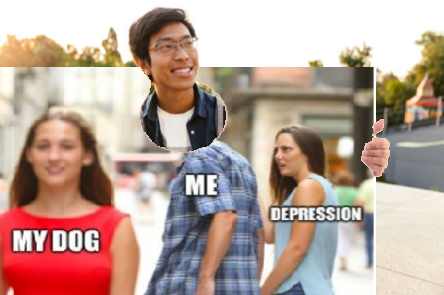 (Warning: This is a work of student satire and is meant for entertainment purposes only.)
Trying to think of an amazing costume for Halloween this year? Well, look no further. Move over Sexy Nurse. Pack it up authentic looking Iron Man costume. Take a seat Dad-bod Thor. There are some new trends to be aware of this Halloween. From buying them in stores to making them DIY, this October young people have decided that memes are the new "it" costume.
While walking through Halloween stores, it might be surprising see that the racks are filled with high-quality cardboard covered in beautifully pixelated images of trending memes. From women yelling at cats to men contemplating math, the variety allows a costume appropriate for everyone and their favorite meme.
In a well-known Halloween store; Halloween for All, one shopper stares in awe at the cheap prices that trending meme costumes are selling for.
"I cannot believe that 'The Kermit Drinking Tea' costume is on sale for 70.99," Lawrence Whittley, an excited customer, said. "I am going to be the coolest kid on the street with my single ply corrugated cardboard."
Some Halloween enthusiasts have even turned to DIY to create these extravagant costumes. However, finding quality cardboard can be a chore, so Wally World, a local supermarket/department store, has begun giving out donations of the boxes they use during supply deliveries. The strength to carry dozens of bananas definitely qualifies these cardboard boxes in high demand for the base of meme costumes.
"I waited in a line at Wally World for their banana boxes because I only want the best cardboard for my meme costume," said John Thomas, who is creating a meme costume from scratch. "Everyone is going to be wearing these costumes, so I have to look my best."
Halloween costumes are becoming more and more based on pop culture. Whether people are buying them in stores or making them from scratch, many people will always base their costumes on what the current pop culture trend is happening in the world. Right now, that thing is memes. So pull the cardboard out of the recycling bin, fire up the printer, and hop on this 2022 Halloween trend to look super cool this year.