Far From Home: International Students in a New Place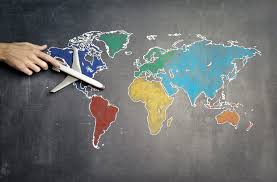 Allen Community College is located in small town of Iola, Kansas, and it has been attracting students from countries all around the world. To understand why some students chose to come to Allen from so far away, I reached out to two international students to get their thoughts on their experiences so far.
Jess Allen is a Freshman from Ipswich, England. She is on the women's soccer team here at Allen Community College and plays the position of center forward. Jess chose to come to Allen Community College because it stood out more to than the other offers she received.
"Allen had more of a better background and they went to regionals and nationals, and had more accomplishments and gave me the biggest offer," J. Allen said.
Here in the United States the education system provides a different point of view than overseas. According to Jess, England's educational system is vastly different than that of Allen Community College. Allen provides a system that is flexible and relaxed but still allows you to be challenged as a student.
" [It is] very strange and relaxed here at Allen but at home  it is very strict and you have to get stuff done but here you can take your time with it ," J. Allen said. "You can get support quicker than at home."
The college and Iola itself is a very small community, so people are used to seeing the same familiar faces around town and in the campus halls. Because of this people openly greet each other and engage in small talk. Culturally, this is different from where Jess is from.
"Everyone here is nice to each other and greeting you at home, everyone gives you the nod," J. Allen said.
Although Jess misses home and her dogs Bonnie, Bengie, and Candy, she is a goal oriented person and her experience with Allen so far have pushed her into setting more goals for herself while away and as an athlete as well. Her future plans after Allen include either attending a four-year university or going back home and working two jobs.
Freshman Titi Oyelami is another international student at Allen. Oyelami is from Nigeria Epode. She chose Allen because it was a better educational fit than the college she attended before.
"I transferred from Concordia University in St. Paul Minnesota due to them having issues with my transcript and Allen gave me the best option," Oyelami said.
When speaking on educational differences, Oyelami mentioned that in Nigeria her education system was hectic and the hours were overwhelming.
"Kansas is relaxed," Oyelami said. "Back at home I got to classes at 6:45 am and will be back at my dorm at 8:00pm."
Oyelami's schedule in Nigeria was overwhelming, but here at Allen Community College, she experiences a schedule that is balanced very well with classes and activities that can allow you to use your time management skills properly.  One cultural difference that Oyelami noticed is that, back at home, they do not talk about greeting in pronouns, and here at the college, she has experienced people greeting in pronouns. Oyelami's plan after graduating from Allen is to attend a four-year university to continue her nursing major.
Jess Allen and Titi Oyelami are from completely different cultural backgrounds but they share similar cultural aspects when it comes to the education system at home. When they both made the trip here they got to see the more flexible schedules and easier access to one-on-one help that American education can provide. Allen Community College has offered many great opportunities for everyone around the world, and it continues to demonstrate how students from overseas can experience a different educational culture, which can allow them to grow as a person and share those discoveries when they travel back home.