Juggling Sports and Academics: A Day in the Life of a Student-Athlete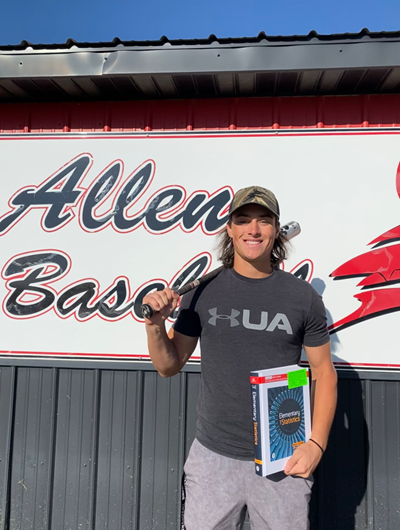 Wake up. Go to class. Eat. Play baseball. Repeat.
Allen Community College has seven different athletic programs, and most of the student body is comprised of athletes. But what does it mean to be student athlete? What does the daily life of student athlete look like? To find out, this reporter interviewed one of Allen's student athletes about their day-to-day activities, to spend a day in the cleats of a baseball player at Allen Community College.
Jack Harris is a freshman on the Allen baseball team. His main position is outfield, and he has been playing baseball ever since he was four years old. Harris is a hardworking individual on the field and off the field. This following is what a typical Monday day in Harris's life looks like during the fall season.
5:20 am – The day begins early for this student-athlete. Harris must wake up early as he has weight training that start at 5:50 am and usually lasts about an hour.
7:00 am – Harris heads back to his college apartment, takes a shower, and gets ready for his first class. Before class, Harris must head over to breakfast, which is a mandatory breakfast check with the coaches.
7:30 am – Harris eats breakfast at the cafeteria with all his teammates and after breakfast goes back to his college apartment to take a nap and then head to class.
9:00 am – Harris attends his first class. He will spend the next three hours in class.
12:00 am – Once classes are over, Harris eats lunch and then heads back to his college apartment to hang out before practice.
2:00 pm – Harris heads over to the baseball field for his daily practice. He spends three hours in practice.
5:00 pm – Harris heads back to the Cafe for dinner before going back to his college apartment to start on his homework
5:30 pm – The rest of Harris' day is filled with homework. Once homework is complete, he finally spends some time relaxing and hanging out with his roommates before heading to bed round about 10:30 pm, ready to start the day again at 5:20 am.
Student athletes work hard here at Allen. With days lasting from five in the morning to ten at night for some, there is not whole lot of time for downtime. Harris's daily schedule shows that he is always on the go. From workouts to school to homework, he is always putting in the work. This is just one day of the week for this dedicated baseball player, but he makes sure to put in the work the rest of the week as well.