Softball Players Fight Through Injuries
According to USA Today's website, every year there are an estimated 1.3 million student athletes that are injured across the nation. At Allen Community College alone, there are 11 sports teams. Based on the statistics, there are expected to be at least three injuries per sports team. That would put 33 student athletes in athletic trainer Ed Wilkerson's office during the course of a year.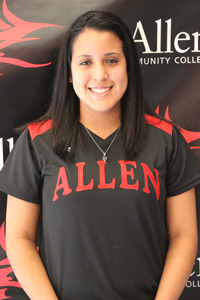 Freshman softball player Elysia Acosta-Guerrero found herself to be one of the many student athletes that encounter an injury. Guerrero had a successful fall season with the Lady Red Devils softball team. Sheplayed third base for the Devils in her fall season and was a home run hitter. The Devils' fall season had come to an end and off season workouts had begun. Guerrero was injured in the first week of offseason workouts when she landed on her ankle wrong during an exercise. She was done for the season.
During her injury, Guerrero found out that she had a bone that was pinching a ligament in her ankle. She had surgery on March 12 and was confined to bed for a week. According to Guerrero, the recovery process went well. She recovered more quickly than she had thought she would.
While the injury may be hard to endure, there is another struggle that injured athletes face: not being able to contribute physically to the program.
"The worst part about being injured is not being able to help my team and not being able to play the sport that I love," Guerrero said.
The healing process comes next. Luckily for Guerrero, she has all summer to regain her strength in hopes to play ball again next fall. Guerrero's goal is to is to get back in shape to where she was when she was playing last fall.
"I plan on working hard and giving it my all since I am behind from not playing in the spring," Guerrero said.
Guerrero was medically redshirted because of her injury, which allows for her to play two more years at Allen and an opportunity to play four years at the college level.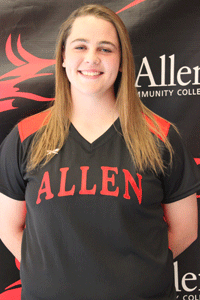 Baileigh Rager, a freshman softball player at Allen, will soon know what Guerrero had to go through.
Rager was signed late in the summer to pitch for the Devils. "I did not know that I was coming here until so late, I didn't really know what to expect. I was just really happy to have a chance to play softball in college," Rager said.
Rager has a torn hip labrum. It is a very uncommon injury so know one knows how it happened. She was injured in November and later found out that it was torn on December 22, 2014.  Rager was the Devils' starting pitcher; she started 12 conference games this season with 83 innings. Rager was awarded All Conference Honorable Mention and Second Team Region honors — this after being injured throughout all of the Devils spring season.
"It was not easy to play through the pain, but I knew my teammates and coaches were counting on me and they made it easier; I knew that they always had my back. If it was not for them, I really do not think I would have been able to make it through the season," Rager said.
According to Rager, the hardest part about being injured was how much she had to miss out on. There were things that she needed to work on, but she was not able to due to her injury. Because of the lack of work, Rager was not always able to perform the way she wanted to.
"I thought I was letting the team down and that is what I struggled with most," Rager said.
Rager's surgery is set for May 22, just one day after finals. She will be out for six months; however, Rager is hoping to be released sooner than that. She is determined to do as much as she can to keep her am in shape so she can still be the starting pitcher next year.
"My biggest goal now is to not let this year's season or my injury define me as an athlete," Rager said.
Over the summer, Rager plans to make her upper body stronger than ever before. Rager will not be able to use her lower half of her body for a very long time.
"The more I keep my arm in shape, the easier it will be to get back into the swing of things," Rager said.
Rager came in first for the least amount of losses in conference, while the Lady Red Devils finished ninth in conference with a winning percentage of 0.273. Expect to see both Rager and Guerrero on the field next year as they regain their health — and their titles.