A Bright Future for a Brite Student.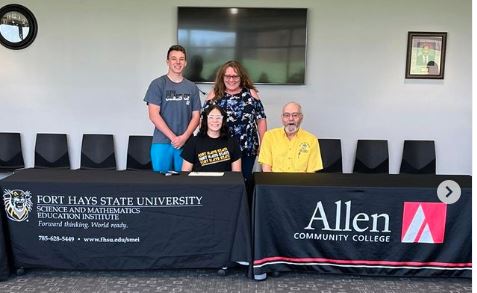 On Friday, April 22, an Allen Community College student was awarded the National Science Foundation's Robert Noyce Scholarship in Chemistry for Fort Hays University. The Noyce Scholarship is a $14,000 scholarship for the Noyce Teacher Leadership program. The student, Lacy Brite, was honored with a signing event in the Ambler Conference room at Allen Community College.
Friends, family, faculty, and staff watched in anticipation as Lacy Brite signed her scholarship during the meeting. An air of ecstatic electricity filled the air as the signing was complete. In attendance for the presentation and signing was Earl Legleiter, Director of the Science and Mathematics Education Institute at Fort Hays University, who congratulated Lacy on her success and answered questions about the Noyce Teacher Leadership program.
The Noyce Teacher Leadership program consists of more than just a scholarship. Recipients will receive specialized coursework, such as; teaching using long distance learning technologies, leadership skills, and professional development on issues facing high needs schools. The program is designed to increase the supply of qualified secondary school teachers in fields associated with mathematics, biology, chemistry, earth science, and physics. According to Mr. Legleiter, about fifty students have gone through the program.