Instructor Shows Students Expression Through Digital Design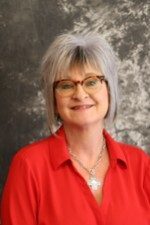 Nancy Ford is the Digital Media Director at Allen County College on the Iola Campus. She teaches classes based around all facets of graphics design. Her passion for design helps students in achieving an associate degree, while also preparing them for a successful transfer into a four-year university.
For my experience in taking Nancy Ford's classes, I have learned that she has a very project-based approach to teaching. When I mentioned this to Ford, she replied, "In my classes the students need to know how to use the programs and the best way to do that is using them." She also added, "You can read book after book, but you have to know the software and use it to figure out all the possibilities. There are so many ways to get the results that you want, so by using it and doing creative projects students are able to get to know the programs."
She backed that up by stating, "Years ago when I was just getting started in this line of work, I had a mentor tell me the best way to learn these programs is to try and do something new each day. So I would pull up different tutorials and learn new stuff. It was by far the best advice I had ever gotten, That's why I truly believe a hands-on approach is the best."
Ford is a firm believer that creativity is good for the soul! She believes that everybody needs to express themselves and uses her classes as a outlet for that. She explained, "You don't have to be a phenomenal artist to create a masterpiece."
Graphics Design is an ever-changing Landscape. Ford works to stay on top of industry standards and truly prepare students. "I have to know what is changing and how to use it, otherwise I can't teach it!"
Lastly, I asked about what upgrades they are making for future students. She noted the eventual replacement of the Macs currently in her classroom as well as acquiring new Wacom tablets (a tablet that allows students to hand draw designs onto the computer). They have also just recently purchase a Glowforge and hope to add laser printing in addition to 3D printing in the future.