Communication Put on Display in Love and Information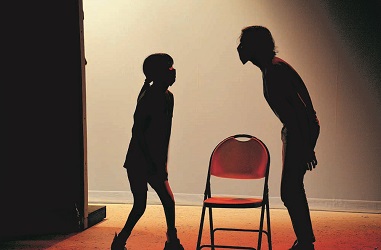 The Allen Community College theater department had their second play of the semester this week. The sixty short plays represent how the modern society communicates. The play began Tuesday, November 17 and ended Saturday, November 21. The actors were excited to perform something different and felt privileged to do live shows.
JieJie Means, a freshman, said, "I'm super excited for my four minute dance."
The cast took great precautions to make sure everyone was safe due to COVID. Forty people were allowed to attend the play while the director, Trevor Belt, seated the audience himself. Tickets are recommended to be reserved but there were allowed walk ups and, of course, masks were required. The actors wore masks unless they were able to socially distance. Actor Maxwell Kays said "I think we're in a good spot and we're grateful for not having major issues."
The short plays by Caryl Churchill are examples of how we show love and communicate or maybe how we do not communicate. Rachel Shaffer and Lexie Vega presented a powerful part about depression and how it is not easy to talk about but sitting in silence with each other says enough. Carolyn Appleton and Kays did another piece that accurately describes how relationships work today. As they lay in bed, Appleton plays a character that cannot sleep and tells Kays so, however he doesn't pay much attention. Couples in today's generation do not communicate how they feel or feel like their partner will not listen so they turn to social media.
"I've been wanting to do this play because it has a good message and even though your generation has more information than anyone has had before, we fail to connect with those around us," said Belt.
The play really makes one think about what the cast was representing. I could relate to some of the pieces and that made it interesting to watch. The actors were close and it was exciting to watch them on stage together. The play was well done by this group with so much emotion, making one look forward for more productions to come.