Wight to Represent Allen at State Band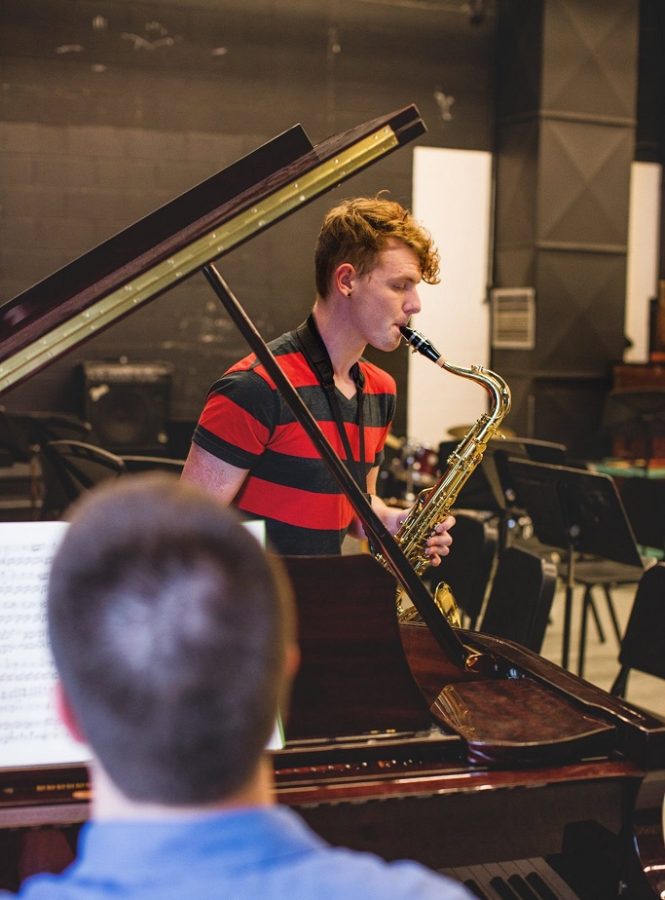 Sophomore Virgil Wight auditioned and qualified to represent Allen Community College at the Kansas Intercollegiate Band (KIB) this weekend in Wichita. The Garnett  native will perform as first chair tenor saxophone in the 58-person band this Friday, Feb. 22, at 3 p.m. at the Century II Concert Hall.
The KIB alternates every other year with the Kansas Intercollegiate Orchestra. Wight competed with students from four-year colleges and universities across the state, and only four community colleges are represented in the band this year, including Allen.
Wight is involved in several ensembles at the college, including Concert Band, Jazz Band, Pep Band, and Saxophone Quartet. He began playing the saxophone in fifth grade band, plays the piano and taught himself bass guitar during his senior year of high school.
In addition to performing in the college bands, Wight has held a work study position for two years with Dr. Jeffrey Anderson, music instructor and director of bands at Allen.
"
I want to see where it could take me in the future."
— Vigil Wight
Anderson is in his second year of teaching at Allen, which is his first full-time teaching job. He holds a bachelor's degree from Michigan State University, a masters from Bowling Green State University and his doctorate from the University of Cincinnati, where he was a teaching assistant.
"Virgil practices on a regular basis," Anderson said of Wight making the KIB. "He practiced the excerpts leading up to the KIB audition, and I helped him a lot with finding recordings of the songs so he could practice sounding as perfect as possible, getting the correct rhythms, articulation, dynamics, etc."
Wight submitted his audition tape in November and found out over winter break that he had made the band, and first chair. Although he has never competed at this level, he is ready to take advantage of this opportunity.
"I'm pretty excited," said Wight. "I like playing in big orchestras, and I want to see where it could take me in the future."
Wight is unsure of what school he will attend after graduating from Allen, but wants to major in audio production. In addition to being an active in the music department, Wight is a member of Phi Theta Kappa, Student Senate, theater, and performs in his own band, Broken Silence.
He started Broken Silence during his senior year at Anderson County High School with current Allen student Hunter Crane, brother Briar Wight and Tyler Seacrest, a percussion performance major at Pittsburg State University. Wight plays bass guitar in the band, which performs a variety of music but primarily rock.
"
I feel like the music program is starting to become more visible in the community and at the college…"
— Dr. Jeffrey Anderson
In his very little free time, Wight hangs out with his friends, reads, draws, plays video games, and, of course, practices his music.
"I just feel like we don't always get a lot of recognition because we are a growing program," Wight remarked about the music program at Allen. "I think participating in KIB could help show what Dr. Anderson brings to the students."
Wight also added that Anderson has become a mentor to him, by helping him in solo lessons for piano and saxophone, as well as through the work study program and having him as a student in classes.
"I think that Dr. Anderson has really built the (music) program and I'd love to see it grow in general over the next few years," said Wight.
According to Anderson, his favorite part of the job is seeing his students take advantage of opportunities like KIB and seeing their progress both short and long term.
"The work is paying off," Anderson said. "I feel like the music program is starting to become more visible in the community and at the college because of efforts like the Facebook page, our concerts and word of mouth."
Allen Community College Music Department