A Visual Stunner In Film Time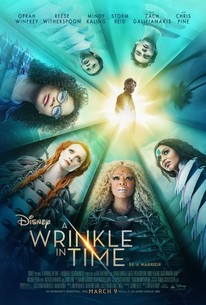 Hang on for a minute...we're trying to find some more stories you might like.
A Wrinkle in Time was released in theaters March 8. To date, the film has grossed $85.4 million in the United States and Canada, but it cost $250 million to make.
Meg Murry, played by young actress Storm Reid, is a typical middle schooler that struggles with her own desperate problems. As the daughter of two world-renowned physicists, she has intelligent and genius talents and is a younger brother to Meg. Charles Wallace (Deric McCabe) is also talented, but Meg has not yet realized her potential.
With the disappearance of her father Mr. Murry (Chris Pine) leaving her mother (Gugu Mbatha-Raw) inconsolable, Meg is joined by Calvin O'Keefe (Levi Miller), a fellow classmate and her brother to introduce three celestial beings, Mrs. Which (Oprah Winfrey), Mrs. Whatsit (Reese Witherspoon), and Mrs. Who (Mindy Kaling), who have travelled to Earth to help search for their father. Together they set off on their daunting mission.
Traveling via a wrinkling of time known as tessering, they are soon transported to worlds where they must confront a powerful evil. To make it back home to Earth, Meg must look deep within herself and embrace her deficiencies to connect to the strength necessary to defeat the evil darkness closing around them.
As a reader of the book it was mostly like how I pictured it. The biracial actress who played Meg was interesting as she is not biracial in the book. The representation did not change the storyline. Charles, Meg's brother, was Asian and was adopted in the film, which was also different from the book. In both cases from the books, the characters were Caucasian. Perhaps filmmakers simply cast the best actors from an audition and change the back story to fit the actors.
The cast did well and the movie is visually  stunning. I give this movie 4.5 out 5 stars.