Business Class Drafts Plans For After Hours Clinic
The introduction to business class at Allen Community College has partnered with Allen County Regional Hospital, Gates Corporation, Russell Stover Chocolates, and Thrive Allen County to draft a business plan for an After Hours Clinic possibly coming to downtown Iola, Kan. The project spans the entirety of the semester and will result in the students presenting the plan to the organizations as their final exam for the class.
The idea came about when Tony Thompson, the chief executive officer of Allen County Regional Hospital, had a conversation with Allen President John Masterson about providing care for students from across the state and abroad who were not connected to physicians in Allen County.
President Masterson, while grateful for the Community Health Center of Southeast Kansas' expansion over the past few years, felt that previous urgent care facilities in Iola were convenient and less expensive for students than going to the emergency room.
"
I like working on the After Hours Clinic business plan because it is really teaching me a lot about what goes into running a business…"
— Emma Weseloh
"We have tried to work very closely with our doctors to encourage them to open their doors and their practices to our students, and they've been very good about doing that," said Masterson. "Especially these past few years with the Community Health Center opening; they have low prices and are very accepting of our students just walking in the door."
The ensuing conversation brought Thompson to the idea of expanding thoughts of an urgent care facility for students to the possibility of an After Hours Clinic that could also accommodate the large number of  industrial workers at Russell Stover Chocolates and Gates Corporation.
Thompson, who visited the intro to business class at the college early in the year, shared that employers were losing money because their employees were not able to receive the primary care they needed and had to take time off of work. Primary care facilities that are only open during business hours were not able to accommodate the large number of industry workers and students with unusual schedules.
"Tony had the thought of doing something in a more formal process and was asking if we had any classes at the college that might be capable of gathering the information for a business plan, and if it would be a fun thing for the students to do," Masterson said. "That's when I got him together with Nicci Denny."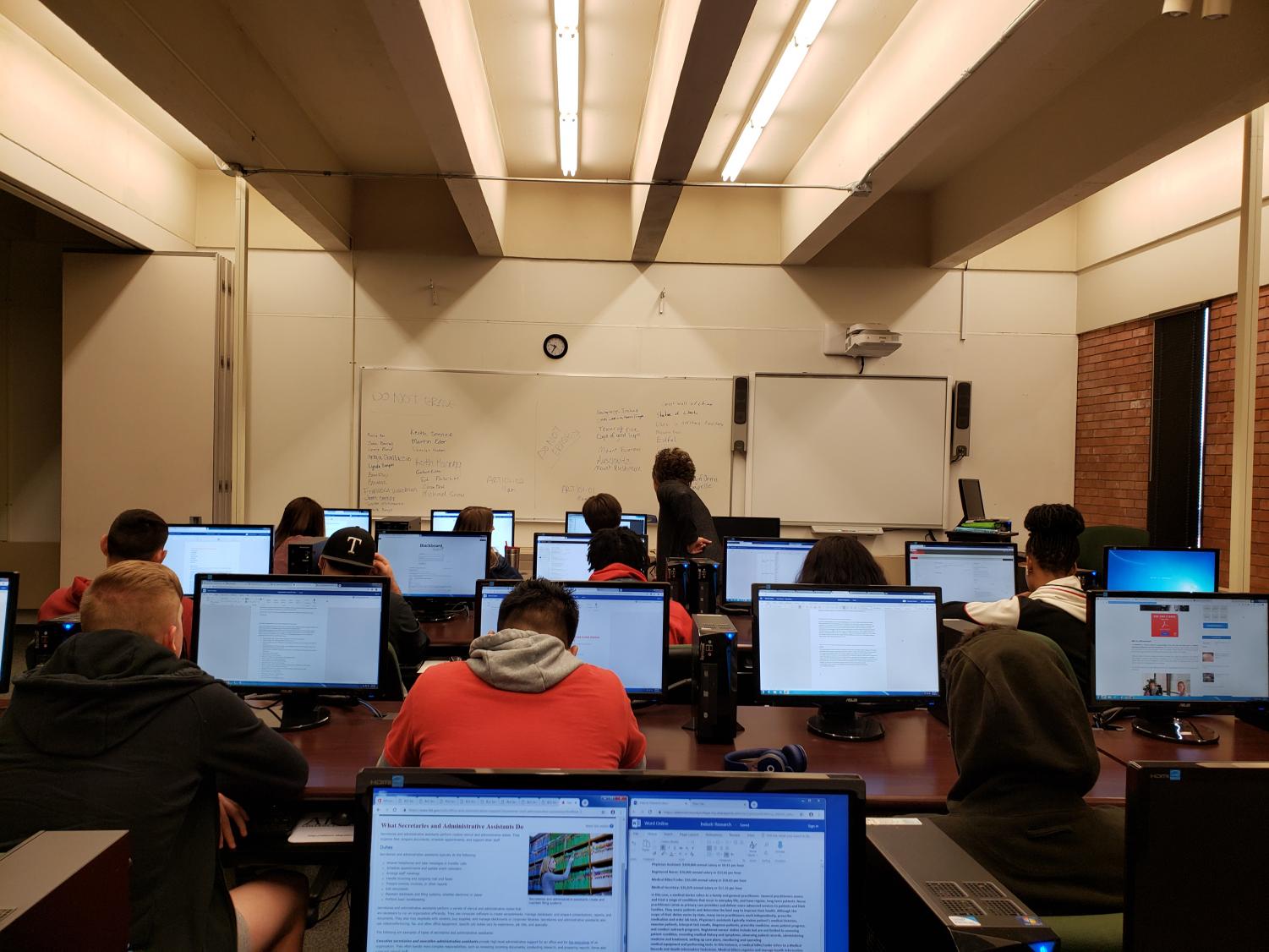 DENNY, THE BUSINESS instructor at Allen, started teaching at the college in 2011, but has a long history in education and healthcare. Denny worked as an online facilitator in healthcare pathway at the University of Phoenix for seven years prior to Allen and has designed several healthcare and business courses during her career.
"I was approached by President Masterson asking me if I would be able to help Mr. Thompson, Russell Stover, Gates, and Thrive with the business initiative of opening an After Hours Clinic and if that was something a class could do from the junior college level," said Denny. "My response at first was that I'd really have to sit and think about it. This would be a (sizeable) project and would be something that we in no way would say was written in stone as an absolute 'yes' or an absolute 'no' in how they (Allen County Regional Hospital) should proceed, but as an experience for the students."
"
I just really hope that we will be able to do this successfully and that it will just be a new thing that we'll get to do with a new group of students and a new mission every semester."
— Nicci Denny
This is the first time that Denny has worked on a community collaboration like this with a class, but didn't shy away from the challenge.
"The biggest challenge is to keep the students engaged and keep them interested in the subject, but to have them also walk away with the knowledge so it's not just a complete entertainment agenda," said Denny. "It's learning what you need to learn so that when you move on to a university you're equipped to be successful."
Freshman and Allen Firestarter Emma Weseloh shared that she has already learned a lot from participating in the project.
"I like working on the After Hours Clinic business plan because it is really teaching me a lot about what goes into running a business," said Weseloh. "It is challenging, because we don't always have the answers to the questions we need answered to move forward with the project."
While at times jumping feet first into a project can be difficult, many students and faculty, including Masterson and Denny, are firm believers of "learning by doing."
"I know that we can't do a complete business project because we don't have the time or the skill set at this level to do that, but we can do a really good template, and walk away with really good life lessons," Denny said. "This whole thing is more of a foundation to say 'No, it isn't a full-fledged, top-of-the-line business plan, but man, I learned so much because of what I had to go through to complete the project.'"
Denny said that the most exciting part of the project will be knowing that the class completed it as a team and to the best of its ability.
"At the end of one of our reflection activities, the students actually applauded themselves," said Denny. "I can't even imagine what they are going to feel when it's done and they go into the conference room and present the work they've done."
Denny stated that she sees opportunity for similar projects by future business classes at Allen.
"I just really hope that we will be able to do this successfully and that it will just be a new thing that we'll get to do with a new group of students and a new mission every semester," Denny said. "I'm hoping it starts a trend for the intro to business class, and is something students can look forward to doing when they enroll in the class."