December Movies Numerous
Star Wars, Pentagon Papers, Harding among film topics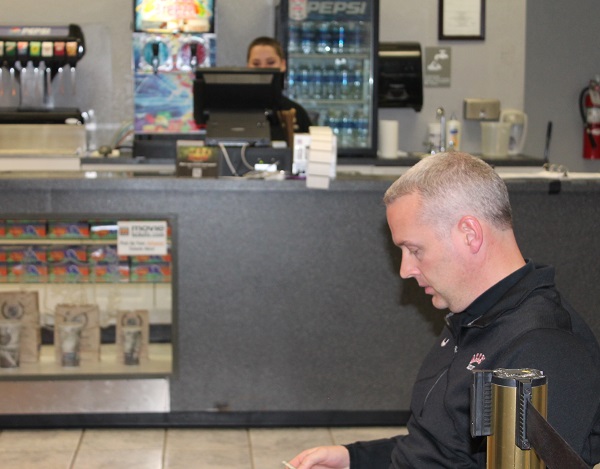 Hang on for a minute...we're trying to find some more stories you might like.
December is the time for movies. This December promises to live up to the hype for the holidays.
Out on Dec. 8 The Shape of Water. An other-worldly fairy tale, set against the backdrop of Cold War era America circa 1963. In the hidden high-security government laboratory where she works, lonely Elisa (Hawkins) is trapped in a life of silence and isolation. Her life is changed forever when she and co-worker Zelda (Spencer) discover a secret classified experiment.
Also out on Dec. 8 The Disaster Artist. This is a true story about the making of The Room – the cult classic described as the "Citizen Kane of bad movies." The masterpiece is a buddy comedy about two outsiders chasing a dream. When the world rejects them, they decide to make their own movie.
Released Dec. 8. Based on unbelievable but true events, I, Tonya is the tale of American figure skater Tonya Harding and one of the most sensational scandals in sports history. Though Harding was the first American woman to complete a triple axel in competition, her legacy has forever been defined by her association with an infamous, ill-conceived and worse-executed attack on fellow Olympic competitor Nancy Kerrigan.
December 15 will bring this movie into theaters.For the more geek-centric amongst Rey took her first steps into a larger world in Star Wars: The Force Awakens and will continue her epic journey with Finn, Poe, and Luke Skywalker in the next chapter of the continuing Star Wars saga, Star Wars: Episode VIII, The Last Jedi.
Also, Dec. 15, Ferdinand tells the story of a giant bull with a big heart. After being mistaken for a dangerous beast, he is captured and torn from his home.  Determined to return to his family, he rallies a misfit team on the ultimate adventure. Set in Spain, Ferdinand proves you can't judge a bull by its cover.
Out Dec. 15, The Ballad of Lefty Brown. When cowboy Lefty Brown (Bill Pullman) witnesses the murder of his longtime partner — the newly-elected Senator Edward Johnson (Peter Fonda) — he strikes out to find the killers and avenge his friend's gruesome death.
Out Dec. 20: In the brand new adventure Jumanji: Welcome to the Jungle, the tables are turned as four teenagers in detention are sucked into the world of Jumanji. When they discover an old video game console with a game they've never heard of, they are immediately thrust into the game's jungle setting, into the bodies of their avatars, played by Dwayne Johnson, Jack Black, Kevin Hart, and Karen Gillan.
Also Dec. 20, inspired by the imagination of P.T. Barnum, The Greatest Showman is an original musical that celebrates the birth of show business & tells of a visionary who rose from nothing to create a spectacle that became a worldwide sensation.
Pitch Perfect 3, Dec. 22: After the highs of winning the World Championships, the Bellas find themselves split apart and discovering there aren't job prospects for making music with your mouth. But when they get the chance to reunite for an overseas USO tour, this group of awesome nerds will come together to make some music, and some questionable decisions, one last time.
Downsizing, Dec. 22,  imagines what might happen if, as a solution to over-population, Norwegian scientists discover how to shrink humans to five inches tall and propose a 200-year global transition from big to small. People soon realize how much further money goes in a miniaturized world, and with the promise of a better life, everyman Paul Safranek (Matt Damon) and wife Audrey (Kristen Wiig) decide to abandon their stressed lives in Omaha to get small and move to a new downsized community — a choice that triggers life-changing adventures.
Also Dec. 22: In June 1971, The New York Times, the Washington Post and the nation's major newspapers took a brave stand for freedom of speech and reported on the Pentagon Papers, the massive cover-up of government secrets that spanned four decades and four US Presidents. At the time, the Post's Katherine Graham (Meryl Streep) was still finding her footing as the country's first female newspaper publisher, and Ben Bradlee (Tom Hanks), the paper's volatile, driven editor, was trying to enhance the stature of the struggling, local paper. Together, the two formed an unlikely team, as they were forced to come together and make the bold decision to support The New York Times and fight the Nixon Administration's unprecedented attempt to restrict the first amendment.
Set in the glamour of 1950s post-war London, renowned dressmaker Reynolds Woodcock (Daniel Day-Lewis) and his sister Cyril (Lesley Manville) are at the center of British fashion, dressing royalty, movie stars, heiresses, socialites, debutants and dames with the distinct style of The House of Woodcock. Opens on Christmas Day.

Editor's note: Movie reviews were compiled from online sources.