Track Teams' 'Triple Crown' Terrific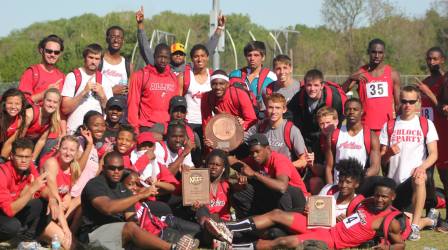 The Allen Community College Track Team competed in Arkansas City, Kansas, May 2 and 3and brought back three different plaques, with multiple athletes competing well in the Jayhawk Conference Eastern Division and Region IV.
 The Red Devils men's team earned its first ever "triple crown" conference title. The runners reign in Cross Country, Indoor Track, and Outdoor Track was fulfilled by winning conference titles in all three sports.
 Coach Vince DeGrado was extremely proud of his team for completing this achievement, stating, "In our sport, there are a lot of ways to showcase our talent. The real work was put in every day during practice; the miles, the sweat and heat, and the ability to stay focused. The races are designed to put that all together. We are able to do just that and come out on top."
 Allen was in contention for first place in the region after the first day of the two-day meet. Without any field events, however, they dropped and held on to third. Saturday, they were presented their second piece of hardware of the day; a third place regional plaque.
 The final plaque of the day was given to DeGrado and Assistant Coach Tony Davis for Coaches of the Year.
 Davis, in his second year at Allen, was happy to share this moment with his athletes. "We had to work very closely with the athletes all year. The price of success comes from hard work. What we have done is apply dedication to determination and make champions out of the kids who choose to win," he said.
 Some of the highlights from the event was Terika Henry's impressive 200 meter race, placing first in both Regional and Conference in 23.16 seconds. Also of note was Elesha Alyn, who placed first in both Regional and Conference in triple jump, with a distance of 12.29 meters.
 On the men's side, Dallas Snider, Tucker Morgan, and Brock Artist took first in Conference running the 1500, 3000 meter steeplechase, and 5000 meters, respectively. The teams running the 4×400 meter and 4×800 meter relays also took first place in the conference.