Agriculture Instructor Retires after 19 years at Allen
After the end of the Spring 2021 semester, Allen Community College will be saying goodbye to one of its long time Agriculture and Business teachers. Phil Reilly, a Cherryvale, Kansas native, will be retiring after 19 years at the college.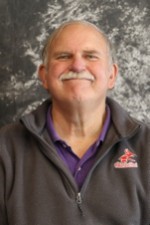 Growing up, Reilly had a lot of livestock he tended to and often helped his best friend working on their farm as well. He credits his time working on the farm for wanting to teach Agriculture, along with joining FFA and Ag courses in High School.
"Having livestock in 4-H and working around the farm gave me an appreciation for the natural resources and production for food."
When asked about why he chose to teach, Reilly said, "I think sometime in my Junior year of high school] I realized it would be interesting to have a job like my high school Ag teacher." This decision ultimately helped him to decide to major in Agriculture Education.
Reilly taught primarily online this past year and said that he enjoyed the job and the students so much that he stayed longer even though he could have retired sooner. "There just comes a time when you know its right."
Even though he is retiring, Reilly claims he still has lots planned to stay busy, including rental houses and livestock with land. He also officiated high school and college softball as well as spending time with his wife, three daughters and four grandchildren.
"I am also active in the church and plan to do more in that area."
Reilly also gave some advice for future agriculture students and teachers at Allen.
"Don't believe everything you are told and question everything. Do your own thinking and your own research. Find your passion and find a way to fit that into your life. Take time for God, count your blessings and pray more."
Phil Reilly will definitely be missed in the Allen Community College family, but his time here will be remembered.