How Do Students Balance Sports and Education?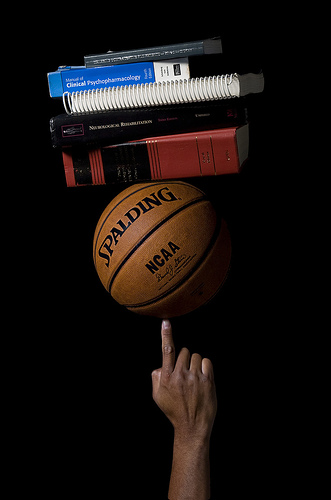 Many students struggle with homework and keeping up with their studies. For athletic students, there is the additional struggle of adding sports to the mix. For two students at Allen Community College, Onyedika Okoye and Noa Mia, the balancing of sports and academics comes from discipline and self-motivation that was conveyed to them in their home country.
20-year-old Sophomore Onyedika Okoye is a Nigerian student majoring in pre-Nursing. According to Onyedika, she decided to come to Allen community college because it was one of the cheapest schools for students without scholarships. So far, her time at Allen has been enjoyable, and she has made new friends.
Okoye was homesick at first because Iola was boring in comparison to her hometown, and she couldn't balance track and studies.
"It was difficult and stressful at first, but as my experience grew, I improved my ability to manage task managers and school," Okoye said.
While employed as a track manager, doing track was extremely beneficial because all track athletes or members were required to attend study hall at times. As a result, it is extremely beneficial because you can only study when you can fall asleep. Track, on the other hand, was extremely beneficial because all track athletes or members had to attend study hall at times. As a result, rather than falling behind without anyone reminding you to do your homework, which is one of the factors that helps athletes stay on top of their assignments to play games.
Noa Mia is 18 years old and from Japan. She enjoys trying new foods and hanging out with her friends; meeting new people with different experiences than hers means a lot to her.
Mia attended Allen Community College to play basketball. When she arrived, things were a little different because it was her first time in the United States, so the food was different, and people's personalities were different. However, Allen's environment has been so much helpful because she met such a good friend of hers who helped her almost with everything to make her feel welcome and show her around campus, including where her classes were. Her self-esteem improved significantly.
Mia's basketball team means everything to her, so she spends a lot of time with her roommate, who also plays basketball, which has greatly aided her.
Things were extremely difficult for her before she became accustomed to playing basketball and attending school, but once she learned how to manage her time, things improved dramatically. She realized that learning how to manage expectations is critical. Avoid the notion that you must excel at both basketball and school.
People will experience an overwhelming amount of stress if set their expectations too high, making it more difficult for them to achieve their goals. We should always be pleased with our performance and know we are doing our best.