Allen Alum's One-Acts Sure to Shock, Amaze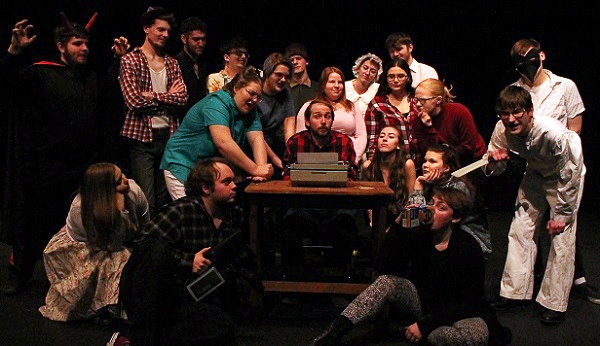 Allen Community College is proud to present five student-directed one-act plays at 7:30 p.m. today through Saturday, Feb. 28 through March 2, in the Allen Theatre.
Five students have been working since late January to provide and present their creations to their audience. These plays are not fully their creation, however. They may have directed the plays but there is but one individual who wrote them.
Nic Olson is an Allen alumni and an aspiring playwright who has slaved many hours to ensure that his audience will be entertained.
Olson attended Allen from 2005-07. He left his education unfinished due to unfortunate circumstances but the passionate flame that he holds for theatre has not flickered since then. Olson has written more than 15 plays since his departure from Allen with around 12 being produced into full fledged performances.
Olson got his first taste for writing when his younger brother, who was in the acting club of the high school, declared that the club was performing short original plays for an event. The sibling longed for a funny short play to perform. Olson, not being one to decline an interesting challenge, got to work immediately, writing a short play about three gentlemen sitting in a high school cafeteria when a mystic enters and begins to predict the boy's' futures.
"It was really funny and the crowd loved it" Olson said.
After that, Olson found himself caught up in Allen's student directed one-acts. Yet there was a deviation this time around that had not been currently experienced.
"Everybody was wanting to write their own one-acts and I thought, 'Hey! I already have one written up,'" said Olson
So he took his short play that he had written for his younger sibling and adapted it into a fully fledged one-act.
Afterward, Olson proposed to theatre director Tony Piazza that he was writing a new play for the summer theatre program and expressed great interest in seeing it produced.
"Yeah, sure. Write it up and we'll do it," Piazza told him.
The play was A Happy Gentle Melody or That Scandalous Staccato Steals the Show. It featured an original score written by Olson. truly, a man of many talents.
SINCE THEN Olson has developed a sense of maturity in his writing and reflects fondly upon his previous works.
"I think my favorite one, writing wise, is A Chat with Ralph. It's definitely the funniest," commented Olson.
A Chat with Ralph features a cat named Ralph and his owner. The owner talks to his precious feline in the same manner that anyone else would. The cat, on the other hand, is more than happy to express his opinions on the situations at hand, all silent to the owner of course.
The one he feels the most pride in, at the moment, is the production Bob of the Dead, one of the one-acts featured in this weekend's menu of offerings.
"I was sitting there, going through rewrite after rewrite, when all of a sudden, it all came to me," Olson said. "I sat down and started typing away as everything fell into place and every new idea made sense and fit perfectly well into the story. I ended up writing Bob of the Dead in like six hours."