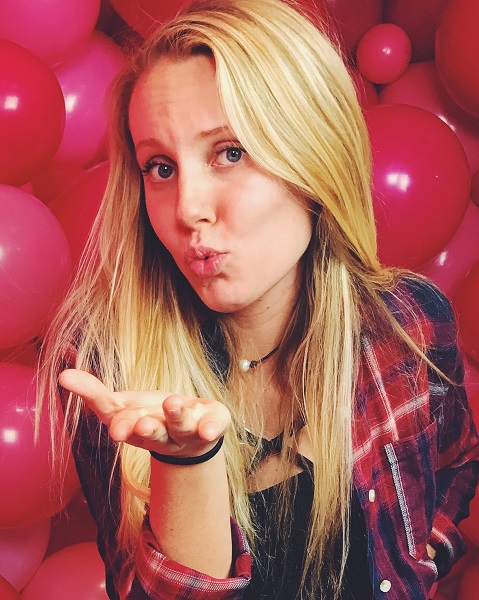 New to the Allen Flame staff this year is freshman Nikayla Kussatz from Gardner, Kan.. Kussatz attended Gardner-Edgerton High School where she was active in her school's yearbook class while also playing softball and volleyball. While in high school she was able to get some experience in the newspaper due to her helping out with her school paper when she was needed. Being a part of Allen's online student paper, Kussatz is hoping to not just learn more about the newspaper, but also heightening her writing skills.
While attending Allen, she plans on majoring in pre-med and is also on an academic scholarship. She became interested in medicine after she had to go through physical therapy in high school and thought itwas something she wanted to do as a career.
Of all her classes so far this semester, Kussatz says she really enjoys psychology because she likes learning about the human mind. One of her biggest goals for her first year at Allen is to do well academically and also meet a lot of new friends. After finishing at Allen, she plans on either transferring to the University of Kansas or University of Missouri-Kansas City to continue her studies.
A few fun facts about Kussatz are: she is the oldest sibling; in her free time she likes to take long naps or go work out; and she can catch grapes in her mouth. Those wanting to know more about her can follow her on Twitter at @nnnikayla.
Nikayla Kussatz, Health Editor
May 09, 2019

Meet the Board of Trustees

(Media)

May 09, 2019

Iola, Thanks for the Memories

(Story)

May 07, 2019

Allen "Sends Off" Sophomore Class in Style

(Media)

May 06, 2019
Apr 25, 2019

Advising Director Enjoys Serving Students

(Story/Media)

Apr 21, 2019

Student Life Events On Tap as Graduation Approaches

(Story/Media)

Apr 13, 2019

Photo Gallery: Community Colleges Celebrate Music from the Movies

(Story)

Apr 11, 2019

Clubs Provide Myriad Opportunities to Participate

(Story/Media)

Mar 20, 2019

Consequences Of Drug And Alcohol Abuse On Campus

(Story/Media)

Mar 04, 2019

Living in Herynk is an Upgrade (Mostly)

(Story/Media)

Feb 27, 2019

Time Management a Priority for Student Athletes

(Media)

Jan 28, 2019

Fashion Show to Take Place in Student Center

(Story)

Jan 24, 2019

Board Member Honored at Ribbon Cutting

(Story/Media)

Jan 22, 2019

Student Center Dedication Is Wednesday

(Media)

Jan 18, 2019

Head Coaches and Parents: The Shaws Do It All

(Story/Media)

Nov 16, 2018

Men's and Women's Cross Country Takes On Nationals

(Story)

Nov 13, 2018

How To: Get A Free Slice Of Pizza At Sam And Louie's

(Story)

Nov 08, 2018

Men's Basketball Underway

(Media)

Nov 05, 2018

New Year, New Coach For Women's Basketball

(Story/Media)

Oct 29, 2018

Womens, Mens Soccer Seasons Come To An End

(Story/Media)

Oct 26, 2018

Photo Gallery: Pink Out Volleyball Game Big Success

(Story/Media)

Oct 19, 2018

Chew on This: Bijou Confectionary Opens in Humboldt

(Media)

Oct 16, 2018

Volunteer Opportunity: Community Clean-Up Day in La Harpe

(Story/Media)

Oct 16, 2018

Photo Gallery: Student Leaders Represent Allen at Farm City Days

(Story/Media)

Sep 24, 2018

New Year For Lady Devils Volleyball

(Story/Media)

Sep 20, 2018

Photo Gallery: It's Hip-Hop Night At Our House

(Story/Media)

Sep 17, 2018

Photo Gallery: First PTK Meeting Success

(Story/Media)

Sep 13, 2018

Photo Galley: Students "White-Out" Home Volleyball Game

(Story/Media)

Sep 04, 2018

Summer is Fun(er) in the Fall!

(Story/Media)

May 08, 2018

A Week in the Life: Lindsey Temaat

(Story/Media)

May 03, 2018

Please Don't Pull Me Over Again: A Girl Surviving the Speed Limits

(Story/Media)

Apr 16, 2018

Terri Piazza, More than a Teacher

(Story)

Apr 02, 2018

Track National Competitors Break School Records

(Story)

Mar 01, 2018

Spring Sports Start-up

(Story)

Feb 27, 2018

Men's BB Ends Regular Season on Winning Note

(Story)

Feb 14, 2018

New Look; New Flame

(Media)

Feb 09, 2018

Second Semester Mindset

(Story/Media)

Jan 25, 2018

ACARF Is Savior For Animals

(Story/Media)

Nov 16, 2017

Students Enjoy 'Hallowthanksmas'

(Story/Media)

Oct 31, 2017

Social Media Keeps Allen Current

(Story/Media)

Oct 17, 2017

Hopeful for Hoops

(Story/Media)

Oct 10, 2017

Salad In the Caf, or Ramen In the Dorm?

(Story/Media)

Sep 15, 2017

Allen, Iola Are Easy Places To Stay Active

(Story/Media)