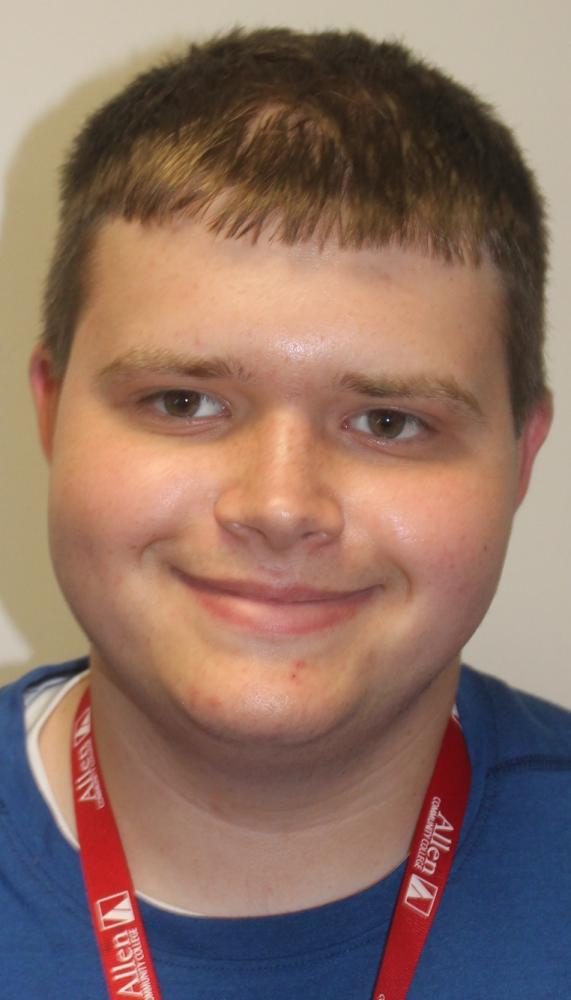 Sophomore Brogan Falls grew up in Le Roy, a small town in southeast Kansas, with two sisters. The 19-year-old self-proclaimed "video game junkie" has loved the entertainment industry from the beginning. Falls is attending Allen Community College on a theater scholarship and is majoring in communications. In the future he plans to attend Wichita State University and pursue a career in radio broadcasting.
Throughout his college career Falls has participated in choir and three plays. This will be his first year on the Flame staff. Although Falls has no prior newspaper experience, he is well versed in the area of broadcast communication and ran a daily morning radio show at his high school.
In his free time Falls enjoys looking up memes and eating pizza rolls, and he feels most comfortable in a hoodie and shorts. Falls currently resides in Masterson Hall at Allen's Iola campus. He described his personality as quiet or modest but comical when given the chance. This year he looks forward to contributing his unique voice to the Allen Flame.
Brogan Falls, News Editor
May 07, 2018

Staying Safe at Allen

(Story)

Apr 14, 2018

Allen Theatre Presents Dracula

(Story/Media)

Apr 03, 2018

Handling Horton Hall

(Story)

Mar 13, 2018

Check Your Baggage (and Your Cellphone) at the Door

(Story/Media)

Feb 28, 2018

Students Direct One Act Wonders

(Story/Media)

Feb 16, 2018

The Horror of the Hallways

(Story/Media)

Dec 13, 2017

Student, Faculty Holiday Plans 'Normal'

(Story)

Nov 28, 2017

Iola Game Store Is Also a Social Setting

(Story/Media)

Nov 03, 2017
Oct 17, 2017

Stage 'Set' and Ready To Go

(Story)

Sep 28, 2017

Mission Improvable: A Show Worth Spying On

(Story)

Sep 18, 2017

Allen Getting Active

(Story/Media)