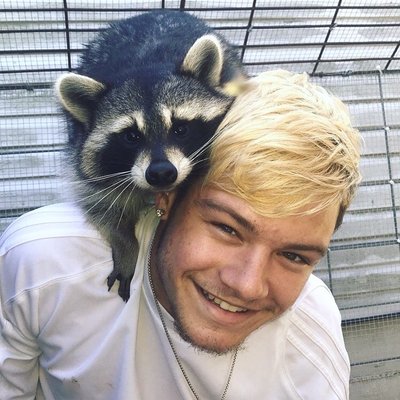 Austin George, Allen Community College sophomore and the sole returning staffer for The Allen Flame, grew up approximately an hour and twenty minutes from here in the suburban area of Gardner, Kan. As a child, he resided with his mother and father, alongside his brother and sister, finding himself to be the middle child. He attends Allen on a soccer scholarship.
George aspires to be a communications broadcast major, a passion that has been fueled by his aunt, Sara Haines, a former "TODAY" show contributing correspondent. Haines has been an influential person in George's life and even presented him with the opportunity to be backstage on the show, meet the cast and get to be on the show, though briefly, at only 15 years old.
As a young boy, George had the opportunity to visit the Bahamas, as well as Florida, many times, as he has family that in Florida. He enjoys traveling and playing soccer whenever possible. He hopes to contribute to the Allen Flame in any way he can to make this year's paper the best it can be.
Austin George, Features Editor
May 10, 2018

Longtime English Teacher Enjoys Her 'Neat' Students

(Story/Media)

Apr 19, 2018

Chase Hochard: The Man Behind the Camera

(Story/Media)

Apr 11, 2018

Fortnite Takeover

(Story)

Apr 10, 2018

He Sets, Reaches High Marks in Studies & Running

(Story)

Mar 08, 2018

Trek the Trails at LeHigh

(Story)

Mar 05, 2018

Allen's President in 26th Year

(Story/Media)

Feb 08, 2018

Jordan Marshall Shares Basketball Goals

(Story)

Dec 14, 2017

Preparation is Key

(Story)

Nov 21, 2017

Taking Guns Isn't the Answer

(Story)

Nov 02, 2017

Athletic Training Program Healthy

(Story/Media)

Oct 20, 2017

Carving Up The Competition

(Story/Media)

Oct 12, 2017

Gun Law Change In Place

(Story)

Sep 19, 2017

Soccer Standout Optimistic For Team, His Future

(Story)

May 19, 2017

Allen Fan Likes Them All

(Story/Media)

Feb 23, 2017

Softball Team's Hopes Are High

(Story)

Jan 05, 2017

Men's Basketball Strong

(Story)

Jan 05, 2017

Weak Season Motivates Volleyball Team

(Story)

Nov 03, 2016

Team Leader Reflects On Soccer Season

(Story)

Nov 03, 2016

New Athletic Trainer Cares

(Story)