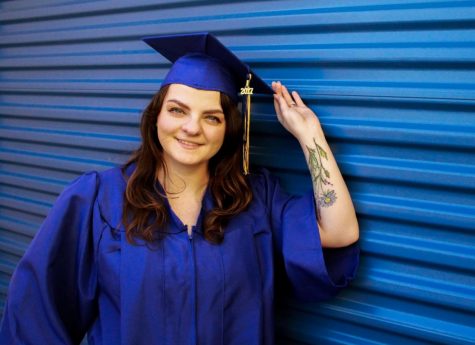 Persephone Burleson is a freshman at Allen Community College, attending on a journalism scholarship. She's from Iola and is majoring in communications .
Burleson was editor of Iola High School's newspaper and has been published in the Iola Register as well as Teen Ink magazine. She loves to travel, visited China in 2015 and plans to visit historical places in Europe, such as the Anne Frank house, the London Eye, and the Eiffel Tower.
Her goal this year is to be involved in the college community. She has already made strides toward this by being a part of the Allen Flame staff and participating in the theater program's first show this semester.
Burleson's free time is taken up by video games, like Final Fantasy XIV and various MMOs, and spending  time with her cats, Ghost and Mochii. One of her biggest inspirations is her mother, who is a single parent with a doctoral degree. Her mother also adopted a few children from China, which has helped inspire her love for travel.
Persephone Burleson, News Editor
Nov 29, 2018

Tuba Christmas: Join the Fun!

(Story)

Nov 29, 2018

Seascape: Shore to Make You Think

(Story/Media)

Nov 05, 2018

On the Same Wavelength: Your Brain on Music

(Media)

Nov 01, 2018

Family Reading Festival For College Students, Too

(Story)

Oct 25, 2018

Adrienne Fleming: Starting on a High Note

(Story/Media)

Oct 16, 2018

Shop Local, Live Good

(Story/Media)

Sep 27, 2018

Financial Literacy: How to Improve Your Life One Dollar at a Time

(Story/Media)