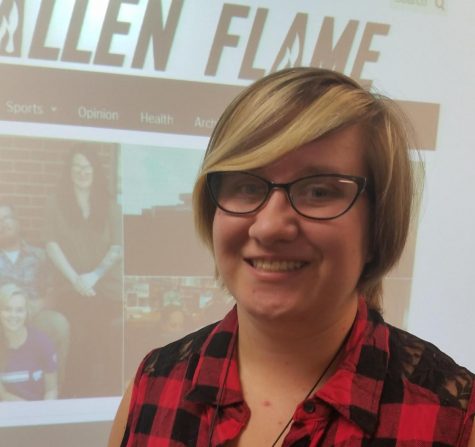 Molly Henderson is a twenty-year-old sophomore at Allen Community College hailing from Elsmore, and is completing her associates degree in English. She graduated from Marmaton Valley High School, Moran, in 2017 and participated in eight years of band, along with three years of choir, two years of forensics, and two years of theatre.
Henderson decided to attend Allen for medical reasons, as she had braces and needed to stay close to her orthodontist. She is serving as the health editor for the Flame. Her goal is to transfer to Wichita State University within the next year. Her goals after college are to move to a colder climate and to work at a publishing company as an editor.
A few of her favorite pastimes pertain to creating. She enjoys video games and regularly plays Dragon Origins and its sequel. She spends time writing original stories and fan-fiction, though editing them is a lot more fun than writing them. Drawing plays a big part in her life, as well. She prefers drawing with an online program called Paint Tool SAI.
Henderson did not participate in newspaper in high school but has had work featured in the Flame. "It was for a poetry piece I did for the Allen Creative Writing Club," she said. "I received first price for the competition, and that was very exciting." This is Henderson's second semester with the Flame.
Molly Henderson, News Editor
Jan 16, 2019

Livestock Judging: Boyd Takes Over, Keeps Things Fun

(Story/Media)

Nov 27, 2018

Who Let the Dogs Out … On Campus?

(Story/Media)

Oct 29, 2018

Resource Guide: What To Pack In Case Of The Zombie Apocalypse

(Story)

Oct 24, 2018

Veteran Memorial Garden Set To Join History Of Iola Square

(Story/Media)

Oct 18, 2018

Rancher Beefs Up Education

(Story/Media)

Sep 27, 2018

Righteous Ramen Recipes for the Struggling College Student

(Story)