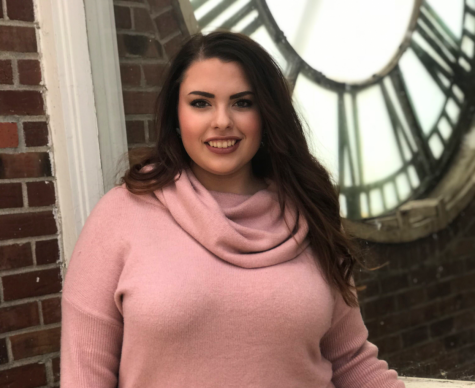 Lindsey Temaat is a twenty-year-old sophomore from Leonardville, Kan., attending Allen County Community College. She is pursuing a degree in communications studies, and plans to transfer to a four year university next year. Last year Temaat served as the first Managing Editor of the Flame, and has returned to her position for the second year. As a freshman, she also enjoyed getting heavily involved in theater productions and choir as well as serving as the Freshman Class Representative on the Student Senate at Allen, and as a communications intern at Thrive Allen County.
Prior to Allen, Lindsey has had many opportunities to show her public relations skills. She had written for her local newspaper,
The Riley Countian,
for three years. She was also given the opportunity to promote a local band by distributing and designing fliers and helping the band gain publicity. All of these things she did on her own initiative.
Lindsey is excited for the upcoming semester. She has returned to her internship at Thrive Allen County, and is now the Student Senate President at Allen, as well as a member of the League of Women Voters of Kansas.
She is not only eager about gaining the skills she needs for a future job in public relations, but she also is excited to get students more involved in the community. Temaat stated her favorite student life event is dollar blizzard night. When asked "If you were an ice cream, what kind would you be," she responded with butter pecan because she is sweet and just a little nutty.
Lindsey Temaat, Managing Editor
Dec 11, 2018

Editorial: How Far is Too Far?

(Story)

Dec 06, 2018

Jingle Bell Rock around the Block

(Media)

Dec 04, 2018

Just A Small Town Girl, With High Hopes for La Harpe

(Story/Media)

Nov 15, 2018

Photo Gallery: Students Inducted into PTK Honor Society

(Story/Media)

Nov 08, 2018

Photo Gallery: Allen Welcomes Prospective Students

(Story)

Oct 26, 2018

Volunteers Bond Over Lip Sync Challenge Video

(Story)

Oct 26, 2018

Photo Gallery: Pink Out Volleyball Game Big Success

(Story)

Oct 24, 2018

College and Community Provide Religious Service for Students

(Story/Media)

Oct 23, 2018

"Pink Out" Game Set to Benefit Community

(Story/Media)

Oct 11, 2018

Allen County Comes Together for Fall Festival

(Story)

Oct 02, 2018

Brazilian Student-Athlete Driven to Succeed

(Story)

Sep 27, 2018

Photo Gallery: Jersey Night Dominated by Allen Pride

(Story)

Sep 17, 2018

Photo Gallery: First PTK Meeting Success

(Story)

Sep 12, 2018

Leaders' Voices Heard at Senate Meeting

(Story/Media)

Sep 10, 2018

Iola Public Library to Entertain Students

(Story)

Aug 30, 2018

New Student Center Nears Completion

(Story/Media)

May 09, 2018

Community College Impacts Area Economy

(Story/Media)

Apr 16, 2018

Editorial: Technology Killed Community

(Story/Media)

Mar 27, 2018

Writers, Thinkers and Dreamers: Allen's Creative Writing Club an Outlet for Students

(Story)

Mar 14, 2018

#ENOUGH is Enough: USD 257 Join the Movement

(Story/Media)

Mar 12, 2018

An Evening of Hope: Spring Concert

(Story)

Mar 06, 2018

Academic Honesty is Top Priority

(Story)

Feb 23, 2018

2018 Homecoming Candidates Crowned

(Story)

Feb 13, 2018

G&W Brings Opportunity & Health Food to Central Iola

(Story/Media)

Feb 01, 2018

Allen Blood Drive Volunteers Needed

(Story)

Nov 30, 2017

Allen Theatre Performs "A Christmas Carol"

(Story/Media)

Nov 21, 2017

Editorial: Contraception Order Is a Step Backward

(Story)

Nov 13, 2017

2018-19 FAFSA Ready To Be Filed

(Story)

Oct 25, 2017

Culture and Intelligence: Dr. Yadav Pandit

(Story/Media)

Oct 10, 2017

Allen Musical Set For Weekend Run

(Story)

Sep 30, 2017

Student Senate: Unseen Leadership at Allen

(Story/Media)

Sep 15, 2017

Red Devil Pride On the Rise

(Story/Media)