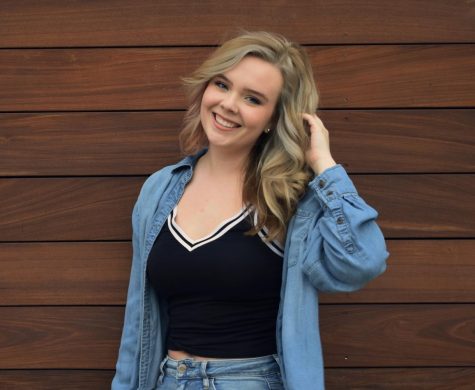 Bailey Sprague is a sophomore at Allen Community College studying addiction and preventive science. She chose this major because it is the field her mother works in and because she wants to help people.
Sprague, 19, comes from Gardner, Kan., a suburb of Kansas City and graduated from Gardner-Edgerton High School. She has one sibling, a sister.  She owns three dogs, a Siberian husky, one Yorkshire terrier and one Pomeranian.
Sprague came to Allen for the small college feel and to develop a close relationship with her professors. Sprague joined the Flame Staff in the fall of 2017, but took the spring semester off. She has now returned to the staff for the fall 2018 semester.
Sprague has visited eight countries. Out of her travels, she stated her favorite country was Italy. She paints as a hobby. Sprague enjoys attending music festivals and attended Electric Daisy Carnival in Las Vegas, Nev. over the summer. Her favorite film is
Avatar.
Her favorite television show is
Grey's Anatomy
but her favorite show to binge watch on Netflix is
The Office
.
Bailey Sprague, Social Media Manager
Nov 13, 2018

Students Helping Students

(Story)

Nov 08, 2018

Photo Gallery: Allen Welcomes Prospective Students

(Story/Media)

Oct 19, 2018

Chew on This: Bijou Confectionary Opens in Humboldt

(Story)

Oct 02, 2018

Words of Wisdom: Sophomore Advice for Incoming Freshman

(Story/Media)

Sep 27, 2018

Photo Gallery: Jersey Night Dominated by Allen Pride

(Story/Media)

Sep 24, 2018

Photo Gallery: Student's Enjoy Library "Game Night"

(Story/Media)

Dec 07, 2017

River Tree Church Accepting Holiday Donations

(Story/Media)

Nov 09, 2017

Play, Eat At Game Night

(Story)

Oct 13, 2017

Free Bowling Appeals

(Story/Media)

Oct 10, 2017

On-Campus Work Convenient, Constructive

(Story)

Sep 15, 2017

New Baseball Complex Taking Shape

(Story/Media)