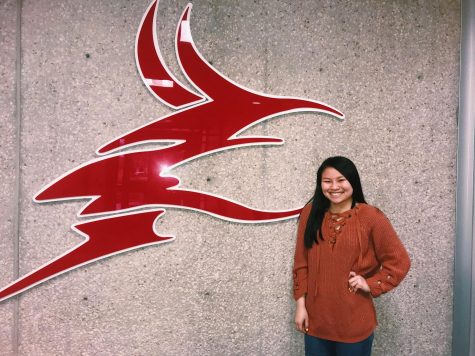 Allison Smith is a sophomore at Allen Community College from Spring Hill attending Allen on a journalism scholarship through the school's newspaper. She plans on majoring in agriculture/communications and journalism taking her next step to K-State.
Smith is excited to be part of activities within the college, looking to branch out in new interests. 
She enjoys being apart of the Flame staff because her voice can be heard to voice her opinions and interests.
In her free time, she enjoys taking naps, watching good shows on Netflix, and spending time with friends.
In high school, Smith was involved in soccer, tennis, and track. She was also a part of National Honor Society, Future Farmers of America and Fellowship of Christian Athletes.
Smith is an only child, although she enjoys spending time with her dog and cat at home. She has a passion for animals and agriculture and is excited to see where that will take her in the future. Smith dreams of traveling to Australia and Paris someday. She enjoys trying new foods, exploring new places outdoors, and photography. 
Allison Smith, Features Editor
Oct 09, 2019

Work-Study Jobs Help Ends Meet

(Story/Media)

Sep 13, 2019

Allen Welcomes New Physics Teacher

(Story/Media)

May 06, 2019

Students Reflect on 2019 School Year

(Story/Media)

Apr 11, 2019

Allen Hosts Aggie Days 2019

(Story/Media)

Apr 09, 2019

Erikson Slated to Retire After Long Career at Allen

(Story/Media)

Mar 25, 2019

No Sleep And Snow Days: The Reality of College Life

(Story/Media)

Mar 04, 2019

Allen Has Major Variety

(Story)

Feb 21, 2019

Track Team Brings High Energy to Season

(Story/Media)