Rain, Sleet or Snow, Women's Soccer Team Works To Steal the Show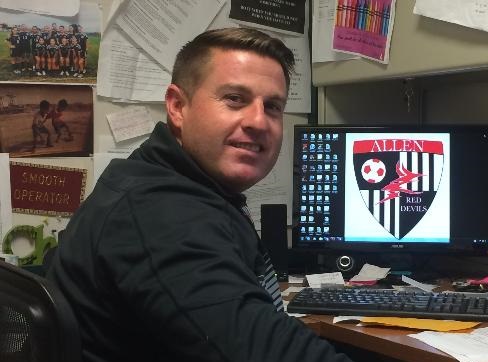 Hang on for a minute...we're trying to find some more stories you might like.
With an 8-10 record this past season, the Lady Red Devils soccer team had many accomplishments.  The women's soccer team made history here at Allen Community College, making it to quarterfinals for the 5th year in a row, which is the 1st in Allen history. "That's a big deal for us" says head coach Jeremy McGinnis.
As the offseason slowly approached, the Lady Red Devils look to progress as a unit. They are looking to be great all around, ranging from fitness to technical skills. McGinnis felt that the team could have went farther than quarterfinals, but is still satisfied with the team's effort this season. "We lacked fitness, and we did not have enough time to properly prepare because we jump right into the season from the summer".
During offseason training their usual offseason routine consists of ball work, technical workouts, cardio, six mile jog and a workout booklet that they are required to record and put in results after each workout.
The women's soccer team looks for fitness to be a habit, which is a major factor in being successful in the sport of soccer. They plan on distributing the ball with passing and getting used to be comfortable with the ball.  A normal practice schedule is Mondays, Tuesdays, Thursdays and Fridays from 3 to 5 p.m.. Most games or scrimmages are held on Wednesdays and Saturday's.
While being in offseason training, the parents are able to be more involved with the program. "We give parents evaluation sheets regarding the player, to help the player become better". The evaluation sheets are a source of communication for the parents, coaches and players to allow players to express what they feel they should work on to better themselves. A lot of the offseason training is individualism.
Jeremy McGinnis seeks to better himself as a head coach in the offseason as well. "I love to go to coaching clinics and learn new things, ideas, and sessions," he said.
He opened up scholarships in order to recruit more out of state players.  McGinnis also loves to watch sporting sessions for free, in order to progress as a coach.
During the offseason, McGinnis hold his ladies to a discipline philosophy. "I believe athletes should do what they are told right away. I believe my players should give themselves completely up to the game for three months.
Athletes who avoid attending class will have a 6am morning discipline practice which consists of running. A student who receives a bad grade will seek tutoring and complete a certain amount of study hall hours weekly. Players with a 3.0 GPA or higher are not required study hall.
McGinnis plans to help the sophomores as well as the rising sophomores during the offseason with grades and find schools to attend. "You are a Student-Athlete, not Athlete-Student." said McGinnis,  "I require my players to maintain a 3.0 GPA or above because schools can't do anything with a student who is not successful in the classroom".
Players who look to go father to the university level will find a list of schools of their choice, and McGinnis have coaches set up try-outs to help the athletes have a fair chance of getting to the next level.
Now that the soccer season is over and offseason training has approached, the women's soccer team still believes in working hard and being on time. "Being on time because being early is you against nobody. Being early for workouts, practice, games and life in general shows a great deal of respect," said McGinnis.