Athletic Training Program Healthy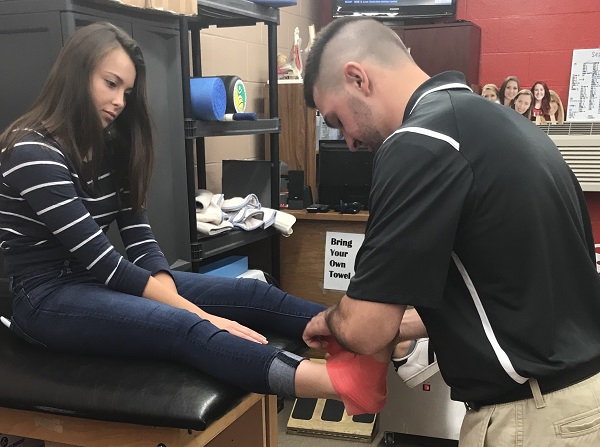 Hang on for a minute...we're trying to find some more stories you might like.
From football to soccer and every other sports played competitively nationwide, athletics are a big part of the American culture. Unfortunately with sports come unwanted and unexpected injuries. Luckily, there are trainers who can help the process of recovery and rehabilitation and get athletes back on the field, or court, as quickly as possible.
At Allen Community College, there are a plethora of trainers and training assistants. The training program has grown since Shane Venteicher was hired as the head athletic trainer. Currently, there are five assistant trainers who help Venteicher assess and treat injuries. However, Venteicher has designs on even more growth.
"I would like to see other students get involved," he said. "I understand we are at a community college, but we can definitely expand more."
The athletic training program has no prerequisite; therefore, anyone can join if interested.
"All they need is an interest in the healthcare field, and I can teach them the rest," Venteicher said.
Assistant trainers get a lot of hands-on  and on-field training. They will be in action about four hours daily, according to Venteicher.
Braden Phetchamchanh has been in the athletic training program for about a year and a half.
"I know there is a need for trainers, but that's not why I am in it. I am in it because I love doing what I do," said Phetchamchanh. "Not only does it give you the preparation you need to be successful, it also gives you the social skills to be able to communicate with others."
Athletic training programs can be very small at community colleges. However, Allen's is growing rapidly. Venteicher is optimistic that eventually they will expand even more.
"I hope more kids get interested in this program," he said. "The more students we have, the more people we can help get back on the field faster."