Soccer Standout Optimistic For Team, His Future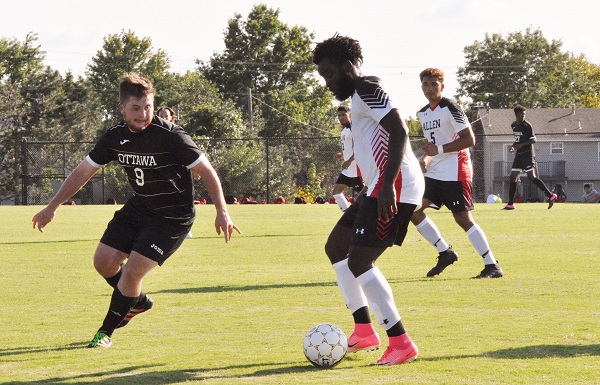 Hang on for a minute...we're trying to find some more stories you might like.
As fall sports are underway at Allen Community College, teams are starting to focus on their upcoming season. All the ups and downs of last season are in the past and one team in particular has high hopes to improve from last season.
Victor Nwankwo and the Allen men's soccer team are anticipating the young season. The men's team was one of three squads who had to come to school a month early to start practicing. They have been working very hard the past month.
Nwankwo is one individual that has put a lot of time on the pitch lately. He is a sophomore from Nigeria, and moving to America wasn't easy, said Nwankwo.
"Yes, it was difficult," Nwankwo said. " It was unusually cold and leaving family behind was very hard."
Nwankwo, who has the potential to play at the next level, reflects on the preseason in a positive manner.
"We look a lot better this year. Even though we looked good, we still have a lot to work on," he said.
The men's soccer team was able to compete with both McPherson and Bethel University during preseason, which is a big step in the right direction considering both are universities and Allen is a community college.
Allen's men's soccer team has set some goals for the year going into conference play. One of the goals is to sweep Neosho Community College, its arch rival.
"We have to beat them, especially after last year," Nwankwo said. "We must beat them."
Another goal of the team's is focusing on is making it to the playoffs, which were cut short last year.
Personal goals are also a factor in the season. "My goal is to be leading scorer and dedicate myself to the craft," Nwankwo said.
Not only does the men's soccer team want to win on the field, they also want to score academically. Being a student athlete brings its challenges for sure, but the team is optimistic. "Grades are what get you places. Soccer isn't forever, but education is," Nwankwo said.
Nwankwo plans to continue his soccer career at a four-year school. He's shown interest in several schools including Dallas Baptist University and King University. "It won't be easy," he noted. "I just want to play and wherever I get that opportunity, I'm going to take it."
Nwankwo added his ultimate goal is to play at Santa Barbara University in California.