Small Town Offers Calm Comforts for Out-Of-Town Students
As a new individual in Iola, I have come to learn about the town's interesting facts and everything it's about and I'm excited to be here for two years.
Iola Kansas is a small town in the southeast of Allen County. The town is named after Iola Colborn, whose husband built the first home in the area. Iola has many things to do within the town such as small businesses that still stand since the town was discovered. Some of the attractions include museums, a fine arts center, and the Old Allen County Jail. There are plenty of parks to enjoy with some friends on a beautiful day as you learn the history of Iola.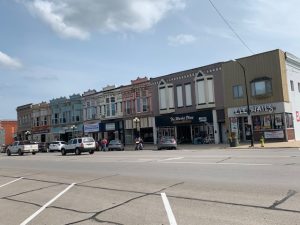 Although the town has history, the newer upgrades such as Walmart and several fast food restaurants, gives the younger kids something to do as well. The old Victorian homes are also beautiful to look at as you drive through the many streets.
As you walk down the main strip, you can see colorful, old-fashioned buildings along with some of the historic buildings such as the General Funston Boyhood home and museum. There are also several trails that have beautiful views and a RV park you can enjoy with family. Boutiques, hotels, golf courses, are just some of the many things that town offers for the locals.
 The small town has a homey feeling that any newcomer would enjoy which is perfect for the college kids that come from all around the world.
A perfect place for a small quiet family to settle in, Iola is also exciting enough for young adults like students at Allen who may be here for a short period of time. I look forward to learning more about Iola. I would definitely recommend looking into and learning more about this peaceful town, especially for the new college kids.