Campus Parking Lots Need Work
Students Feel Parking Lots on Iola Campus are Unsafe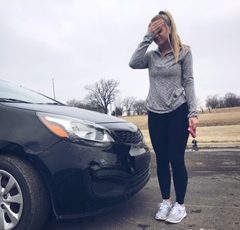 A survey poll was offered to the students and community of Allen Community College last week on Twitter asking their opinions of the parking lots at the college's Iola Campus. These poll's included the questions: "Have you ever been involved in an accident in the campus parking lot?" and "Do you think the parking lots should be re-designed to avoid blind spots?"
The results were not surprising, displaying how concerned people are with the current layout. Almost half of the feedback received (33%) was from those who have personally been involved in a car accident on campus.
"
Feedback showed 97% of people believe Allen's parking lots should be re-designed to decrease the number of accidents."
I am one of the unfortunate people who was involved in a car accident on my way to class, going under 10 mph. I had never been in any automobile accident throughout my driving career (4 years) prior to this and I consider myself to be very cautious and aware while I am behind the wheel. However, I was unable to see another car heading my way due to a blind spot by Winter Hall, ending in an expensive collision.
Considering college students haven't had their licenses for very long and are still new to busy traffic, I believe school parking lots should be carefully designed for pedestrian and driver safety.
Blind spots seem to be the most common concern from students when driving. Feedback showed a whopping 97% of people believe our parking lots should be re-designed to decrease the number of accidents.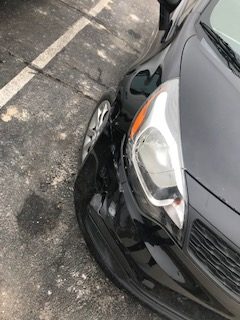 I got the opportunity to speak with Ryan Bilderback, the director of student life at Allen. I expressed my concern and filled him in on the surveys and how the results were alarming to me. I learned that the parking lots were resurfaced about 5 years ago, which cost approximately $75,000 dollars. This was done to fix potholes and cracks that could potentially worsen.
"Our biggest concern in the parking lot is speeding," said Bilderback.
This makes sense, because most accidents happen when people fail to pay attention and obey by the rules. I was informed the school has taken action against this problem by putting in speed bumps and multiple speed limit signs around campus. Sadly, to their surprise, students drove around them and continued to disobey the obvious rules.
Bilderback and I agreed that there are some obvious issues within our campus parking lot. One of the main ones is the dangerous blind spot near Winter Hall.
The school is always looking for ways to better the education and safety of students. The Iola Campus has grown dramatically over the years, which has forced the school to build more residence halls like Masterson and Winter Hall,and rent duplexes and apartments across Cottonwood Street, which is a very busy thoroughfare.
I believe if we take on the challenge to update the not-so-new parking lots, our campus would only benefit and the percentage of accidents would decrease.