A Night of Bingo Fun at Allen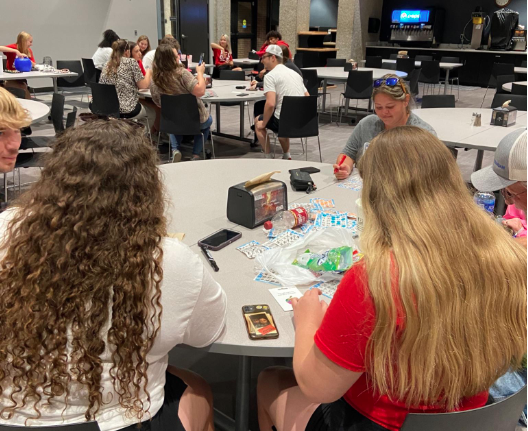 "B-10." "Bingo!" This was the scene this past Thursday, Sept 29th, when community was brought together for a Bingo Night at Allen Community College. The Allen Spirit Squad held this event in the cafeteria of the Iola campus in the evening after dinner. The Spirit Squad is fundraising to go to Daytona, Florida this year for a national cheer competition. This was just one of many of their fundraiser events.
The night consisted of multiple rounds of various bingo games such as; Five in a Row, Four Corners, and Blackout, to name a few. Prizes consisted of Allen gear, various gift cards, and customized cups made by Mackenzie Anstaett, cheer and dance coach here at Allen. The event lasted for 2 whole hours of competitive rounds of bingo fun.
"If you're not winning you're losing", said Amanda Teal
Amanda is the mother of Kyden Teal, who is currently attending Allen.  As the night wore on, Amanda was consistently winning rounds and screaming "Bingo!" when she struck gold. Amanda was on a lucky streak, as she won a total of 4 rounds and took home multiple prizes. Overall, the Bingo Night was very successful evening filled with fun and laughter, drawing to a close only after almost all the prizes were claimed.