'Servant' To Hit The Stage This Weekend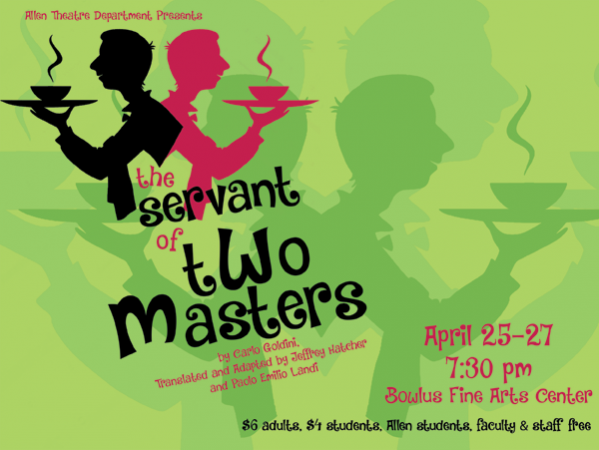 The time has come for yet another creative production from the hands of director Tony Piazza and the Allen Community College Theatre Department. This year's spring play, The Servant of Two Masters, is showing at the Bowlus Fine Arts Center in Iola Thursday through Saturday, April 25-27, at 7:30 p.m. General admission is $5, Allen students and faculty get in free with a current ID.
The show, which Piazza said he originally read in college, is a comedia piece, inspired by the improv scenarios from ancient Greece. According to Stage Agent, the play tells the story of a hungry servant who, upon realizing that working for two masters could ensure him a greater supply of food, tries to do the job of two men while working desperately to conceal that fact from both employers.
Piazza believes the version he selected should be easily accessible for audiences.
"There are a lot of references to the audience," said Piazza. "They are a partner in the play."
The well-known director also shared that the classic comedy doesn't take itself too seriously, forcing the actors to break out of their shells.
"I have had to work with the actors to help them find that life and extend themselves," said Piazza. "College theater is a great training ground for young actors, and the fun part of my job is getting to teach the students about good theater."
"
It's been fun and challenging. I've always wanted to do it, and it's one of the classics."
— Director Tony Piazza
This is the last production at Allen for most of the leading cast, whose faces are surely recognizable to audiences.
Sophomore Austin Wickwire takes on the role of leading man, Truffaldino. Wickwire described his character as a "jester who gets himself into all sorts of hijinks." He added, "I love how full of himself he is, compared to how the rest of the world views him."
Wickwire went on to compare the play to classic Monty Python.
"It is a comedia piece that is very blunt yet clever with it's humor," said Wickwire. "It really gives the actors, myself included, a very unique experience to work with."
"One of my favorite parts is my and Lane Houk's sword fight because we have fun trying different techniques and not always taking it too seriously," said sophomore Padyne Durand, who portrays the leading lady, Beatrice Rasponi, in the show.
Judd Wiltse, a veteran of the theatre department at Allen, takes on the role of Pantalone, a man who he described as "Donald Trump meets Bill Gates rich."  Wiltse's character is the father of Clarice, played by Paige Durand.
"My favorite part of the show is any scene that I'm in… I just have so much fun playing this character," said Wiltse.
"
What I will remember most is all the amazing people I met and all the fun we had together inside and outside the theater."
— Paige Durand
While the performance by the collective theater troop is sure to be a show-stopper, perhaps the most bittersweet moment is saying goodbye to this crop of talented actors.
"While I love every second of my experience in the theater, my most memorable moments are what goes on backstage during a show," said Wickwire, recalling a memory from this year's one act plays.
"One of my favorite memories would be getting to perform with Judd (Wiltse) and Austin (Wickwire) in our one act last year because the costumes were so fun and we had a great time practicing," said Padyne Durand. "Another notable memory would for sure be getting to pretend toeat a baby in Dracula (last spring) as we dipped our hands in neon pink paint."
"What I will remember most is all the amazing people I met and all the fun we had together inside and outside the theater," said Paige Durand.
Don't miss their performance of The Servant of Two Masters this weekend at the Bowlus Fine Arts Center. It'll be one heck of a swan song.