Mamma Mia is an ABBA-SOLUTE Must See
Allen Community College and the Iola Community Theatre are teaming up to present the popular musical Mamma Mia on Oct. 11-13 at 7:30 p.m. at the Bowlus Fine Arts Center.
Mamma Mia is a jukebox musical featuring a lineup of songs by the Swedish pop group ABBA. The plot revolves around a young bride who wants to find out who her father is so that he can give her away at her wedding. Debuting in October of 2001, the musical has been performed over 5,000 times and has two film adaptations.
"
Everybody knows it (Mama Mia), everybody loves it, it's just a feel good thing to watch."
— Julius Hodges
With a wide range of actors, from eager newcomers to the experienced veterans, this cast is one of the largest ensembles that the Bowlus has had up on its stage in quite a while.
For many people, working with such a large cast has proven to be an interesting experience. Allen freshman, and Yates Center native, Julius Hodges has been in five plays up to this point, and he says that working with such a cast is really interesting and fun to adapt to.
"Back in my high school we had like short cast plays… so we had more individual time, as well as one on one time with other cast members," said Hodges.
Hodges plays the character of Sky, the fiancee of the aforementioned bride, named Sophie who is portrayed by Sabra Stockebrand. Upon hearing word that he had been cast as such a major role, Hodges was very surprised.
"It was like this mind blowing thing to hear, especially coming into college like this," said Hodges.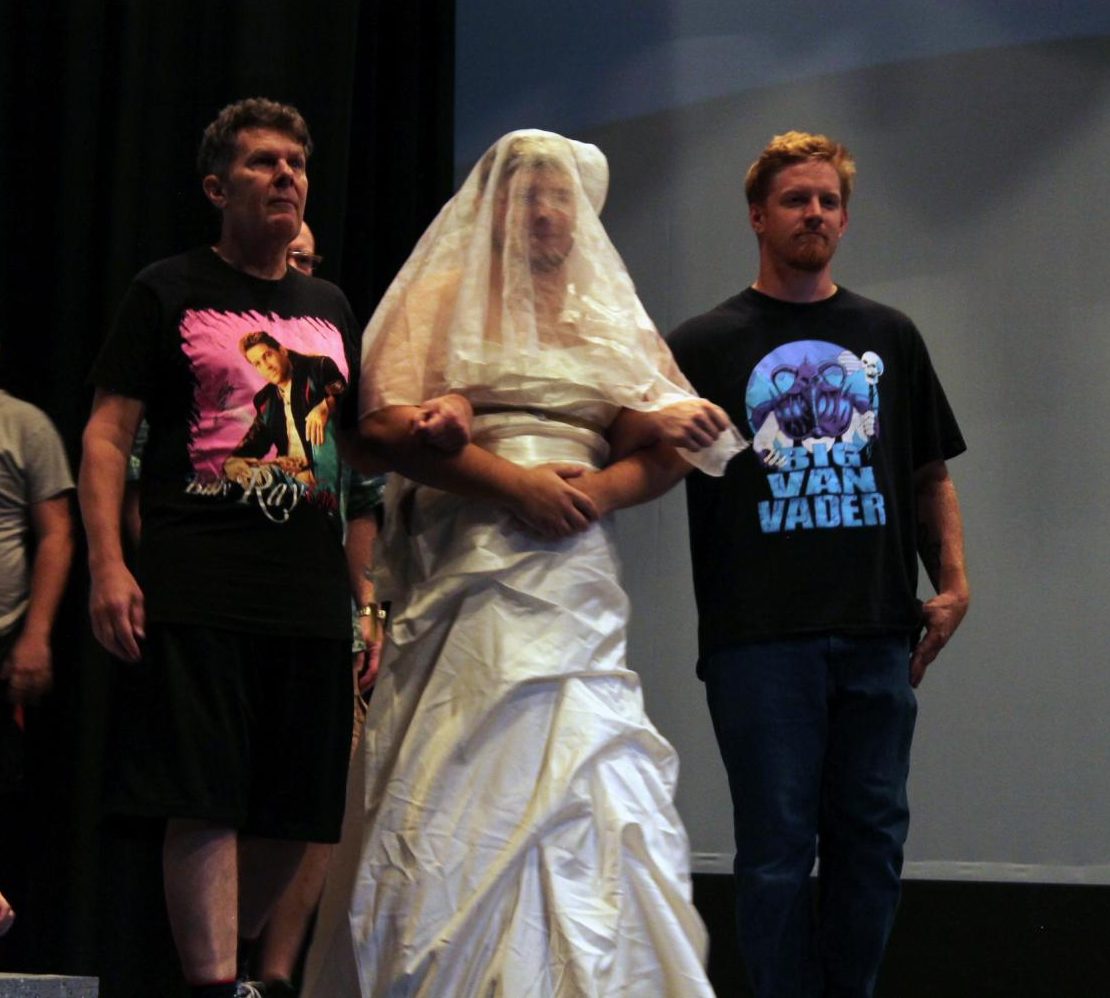 This is not the first time that Iola has dealt with a massive cast though, as Iola Community Theatre veteran Jim Gilpin can attest to. Gilpin has been involved in Iola's theatre community since 1962. Since then, Gilpin has made appearances in many community theatre productions. Gilpin believed that Mama Mia was one of the biggest casts to have been performed at the Bowlus Fine Arts Center.
"This one is pretty close regarding size, 'South Pacific' was pretty big but it's similar to this size though," said Gilpin.
Working with so many college students might be stressful for some people but Gilpin would disagree.
"I love working with everyone," said Gilpin. "They have so much more energy than I do and it's apparent that everybody from the college that's in this show is really having a good time and they're enjoying each other as well as being in the show."
In regards as to why one would want to come see the show, Hodges comments that in addition to making the audience dance in their seat, smile, and cry, it might just take them on a trip down memory lane.
"It's 'Mamma Mia,' Everybody knows it, everybody loves it, it's just a feel good thing to watch," said Hodges. "Overall, everybody is putting in their best effort and you can tell everybody here is trying to make this play work."