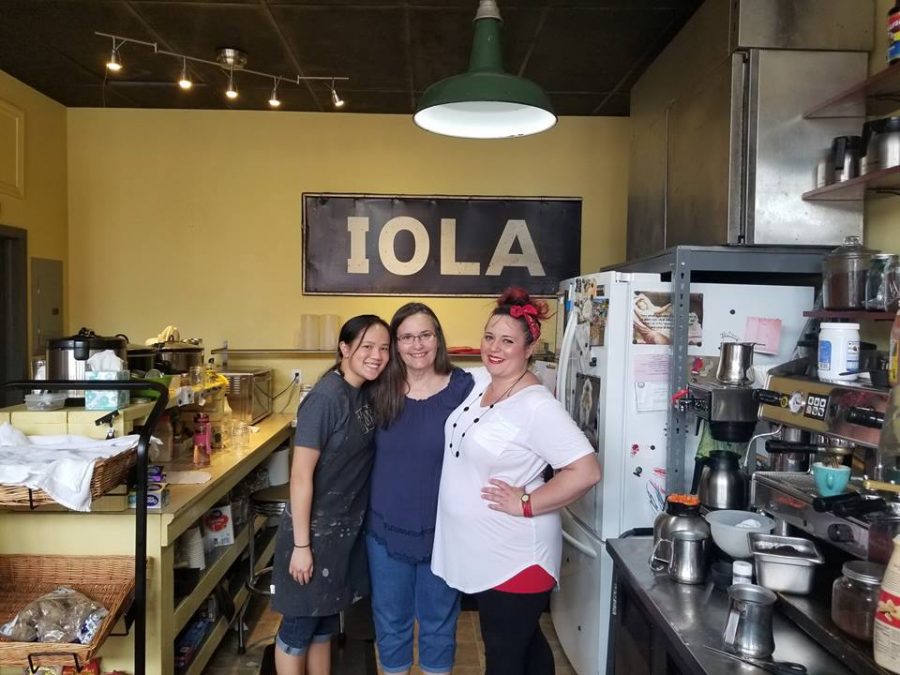 Lindsey Temaat
Allen Community College brings a significant amount of money into the county by drawing hundreds of students and faculty every year, supporting business and growth for the local economy.
When a pipeline was built through Allen County, the county's valuation skyrocketed. The company that owns the pipeline, Enbridge, pays taxes to the county on that property, as well as businesses and citizens who own their own homes or vehicles. Those taxes are divided among the college, USD 257 schools, the city, and the county.
Brian Counsil, the vice president for finance and operations at Allen, balances the budget, and has expertise in the way property taxes can fortify a community.
"I put together an appropriations budget which lists the revenues I expect to get from the state, the revenues I expect to get from tuition and fees, and the expenses we have to expect for the year," said Counsil. "You try and balance this budget, and in that process you are also going to establish a mill levy."
A mill levy is the "tax rate" that is applied to the assessed value of a property. For the 2017-18 academic year, the college's mill levy was 20.752. According to Counsil, if the college is asking for 2.8 million dollars on estimate from the taxpayers in the county to help subsidize and operate the college, the individual return each one of those taxpayers are getting on their money is 50-fold.
"The communities that have a community college in them are stronger business communities. They come with students, more places to eat, more places to entertain, more places to clean your vehicle, hotels," said Counsil. "If the college wasn't here, and the students weren't here, and 100 employees with bachelor's and master's and doctoral degrees were not here, what businesses would we not need?"
For the academic year of 2015-16 the college itself spent a million dollars on goods and services in Allen County. Out of the 2.6 million dollars the college collected from local tax payers, half was spent in the county. However, as Counsil explains, a lot more than just a million dollars is funneled back into the local economy.
"On top of the one million spent on goods, the college paid 100 people whose paychecks, part of that money went to pay taxes, partly local taxes. Then they stopped at Walmart, and then they paid their local electric bill, and enrolled their kids in local sports. When they do that, Walmart takes that money and hires local people, even students. And then those students pay taxes on that, and take what's leftover and go spend it at McDonald's, or at the theater and everyplace else in town. We've just turned that money over about 4 times," said Counsil.
Allen paid about 4.5 million dollars in full time wages for the 2015-16 school year. Based on the idea of how much money can "turn over" it is easy for some to imagine what impact that can have on the community, and the jobs it creates.
Big Box vs. Mom & Pop
"I am in no way against Walmart because I think it would be a borderline decision for them to stay in Iola if the college wasn't here," said Counsil. "They provide a lot of jobs for students and a lot of jobs for students' parents. Those paychecks that they provide pay taxes in this community and they spend their money in this community."
Gage Ruark, an Flame staff writer during the 2017-18 school year was employed by Walmart during his time at Allen, and estimated that, at the time, about 15 Allen students work at the store. Allen Sophomore and Iola native Jacob Null has been working at Walmart for over a year, and is now the customer service manager.
"It's the best job I've had because I've made so many friends there," Null told the Flame in May of 2018. "I am able to save a lot of my money because I have an academic scholarship at Allen."
While both big box stores and small businesses bring money into our county, Counsil says he is committed to shopping locally.
"I shop in Allen County as much as I can. I spend as much money as I can in this town, and I don't know that that's everyone's mindset, but I promise you a lot of people think about it that way," he said.
2018 Allen Alum Joie Whitney worked at Around the Corner, a coffee shop in downtown Iola while attending Allen and used the money she made to pay for her car.
"There was an ad on Facebook and when I came in to the shop I just thought it was such a nice atmosphere," Whitney said in a 2018 interview. "I love working there because the customers are all really nice and friendly."
Whether you prefer grabbing a Quarter Pounder at the McDonald's Drive-Thru or sitting down at King's Sandwich Shop for a juicy burger, dollars spent in the community benefit those who live there. Allen Community College is the heartbeat of Allen County, and plays a key role in keeping the local economy afloat.