New Student Center in the Works
Hang on for a minute...we're trying to find some more stories you might like.
At Allen Community College, the Student Center serves to meet the students' needs to be successful. Whether it would be for a dining hall experience or a place to play games with friends, the Student Center's top priority is for the students.
It was first built in 1969, where it served students from Horton Hall when it was the only residence hall. According to Ryan Bilderback, director of student life, the Student Center was modeled to serve about 96 students.
But now, work has begun to renovate, enlarge, and improve the Allen Student Center.
The college set up a plan about five years ago to modernize the facilities. According to Allen President John Masterson, the best way to tackle a facility upgrade is to pick a top priority to improve upon, which was the Student Center.
Talks of about a year led to the appointment of an architect who has been involved with coming up with a design for this project.  Support from the students, administration, and staff has given the plan numerous ideas for the new student center.
"I feel like our Student Center is more of a cafeteria and where you can conduct a meeting," Masterson said. "There is really no place for students to hang-out or play."
By March, the plans to renovate the student center will be put into action, as construction crews will start breaking ground during that time.
Some of the improvements that this project is planning is enhance is the dining hall experience. The new student center will be more spacious and will be more modernized. This will not only benefit the students but also the food service company, whichprepares the food for the dining hall.
"
The overall goal is to create more student space for students to socialize or hang-out. We always talk about creating a positive campus culture, and this is part of that idea."
— Ryan Bilderback, director of student life
The student space will also be expanded with two new game rooms. One room will be for pool and ping-pong and the other room will be for video gaming. The outside space between the main academic building the current student center will be removed and will create a new student commons area. With more open space, the college can do more activities like dances for the students.
"The overall goal is to create more student space for students to socialize or hang-out," Bilderback said. "We always talk about creating a positive campus culture, and this is part of that idea."
There will also be a new patio area that will serve as a walkway to the new student center. This area will be where students can sit down and relax and enjoy the sunshine. It also will be an area for parties or other outdoor activities for students to enjoy.
By next fall, students will see a new and improved student center, with a new dining hall expected to be available by the beginning of the 2018-19 academic year. The entire project is expecting to be done by December 2018.
"I think it is one of the things that helps attract students who come to our campus to make that decision about college," concluded Masterson. "It's all about knowing where they feel most comfortable and confident that they can be successful. I think that this (Student Center) adds to that and tells the students that we care about their success."

About the Contributor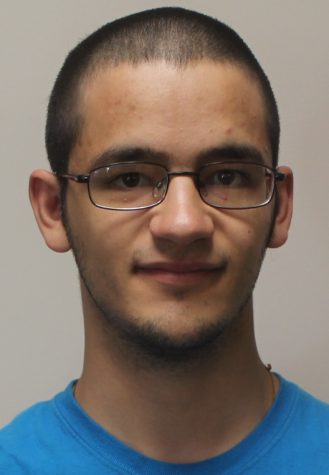 Paul Borcherding, Video Editor
Born in Chicago and raised in Rossville, Kan., Paul Borcherding is a freshman pursuing a mass media major at Allen Community College. He earned a band scholarship and plays the flute and the piccolo, in addition to his other classes, and, of course, writing for the Flame. Borcherding wants to bring his skills from high...