Reap the Benefits of a Farming Community
The Iola Farmers Market is the perfect opportunity for Allen's students to take advantage of the agricultural community around them. The market is open weekly, every Thursday from 5:30pm-7:00pm, on the southeast corner of the town square. A variety of locally grown produce, baked goods, plants, eggs, meat, honey, jams, herbs and soaps are available at the market.
Linda Baker is among the several vendors at the market. People stop by her tent to get their pick of garden grown vegetables or satisfy their sweet tooth with freshly baked breads, pies or cookies. However, don't expect to get any recipes out of her because she stays tight-lipped, only to say that they come from family members and years of experience.
Baker has been a vendor at the Iola Farmers Market for five years. She said, "If I can grow it, I'll usually find something delicious to make out of it."
She also sells her produce and fresh baked goods at the Chanute and Humboldt farmers markest during other days of the week. She said she enjoys baking and participating in area markest as a hobby and as a way to help provide for her grandson's education.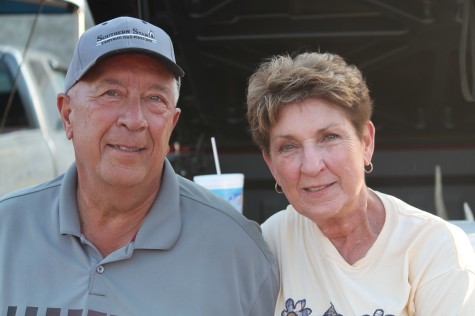 If delicious breads, pies and cookies aren't your thing and you're looking for something a little more healthy, then consider stopping by Marilyn Hanna's truck where she and her husband have nutritious elk meat for sale. Hanna and her husband raise cows, bulls and yearlings at their home in Humboldt with over 60 acres of grass fields for the animals to roam freely.
Hanna said her ground elk meat is lower in cholesterol and lower in fat than ground beef and is definitely healthier than anything one can buy at the grocery store.
So come out on Thursdays to experience the farm-fresh and home-baked goods local vendors have to offer. The last day for the Iola Farmers Market is Oct. 8 and it will resume the first Thursday of April.