Foremost Students Perform Wonderfully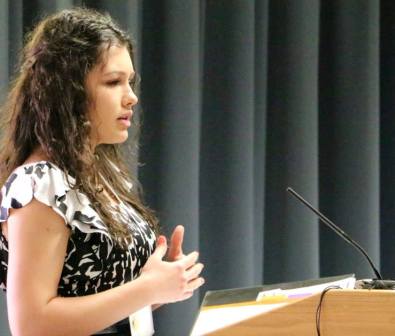 Each student that attends Allen Community College brings something different to the two-year college. The school has seen a plethora of talent come through the doors, from coaches and athletes, to talented teachers and students, but a group of students known as Phi Theta Kappa is showing diversity of knowledge that passes through the doors every day.
Over the March 7, 2014 weekend the PTK group went to Lawrence, Kansas and came back illustrious among their peers. The group, which is comprised of students who are in good academic standing and show an interest in advancing their skills, represent part of the Southern District Convention and met with scholars from across Kansas in a leadership environment. Accolades were awarded to standout individuals and groups, where the Allen County group was excited to hear its name throughout the night.
Elvira Avdeyeva, a sophomore from Turkmenistan whose vice presidency position was challenged by another student from Coffeyville, held her political rally and campaign event at the Lawrence gathering.
"I was more nervous-excited than nervous-scared," she said. "I knew the topic well and was very confident."
Her speech was well received, with many people coming up congratulating her after an in-depth and informative speech titled "Frontiers and Spirit of Exploration." A surprise for Elvira's campaign was when members of the Phi Theta Kappa chapter from Allen wore T-shirts with her name on them to promote her ideas and presence. Along with a well-executed speech, and the support of the group, the little things came together to help Elvira win the vice presidency position.
This wasn't the only good news of the weekend, however. The Allen County kids raised awareness of the college's engagement in the local, regional, and international involvement. Having successfully been involved with projects through the year they raised their four-star rating to the highly coveted five-star rating. Through leadership and developmental services they were able to be ranked amongst the highest in Kansas. Each individual has added to the success of the group, through exceeding in classroom performances to a stimulating exchange of ideas at a scholarly level.
Phi Theta Kappa presents a program guide for chapters to fulfill through the span of two years. According to the Phi Theta Kappa website the challenge is known as Honors in Action, which fosters a stimulating environment for intellectual growth and to create opportunities for leadership and learning as leaders through service and advocacy. The Allen team has taken on this real-world problem-solving with extreme effort. Determination and hard worked through all members allowed for the group to be recognized at the event.
One of the more prestigious awards, Most Improved Chapter, was given to the Allen contingent. This award signaled that Allen had turned over a new stone. People not only in the region, but at the state level are starting to see Allen as a reputable group.
According to Allen PTK sponsor Nikki Peters, who was also recognized for the Paragon award, "We went leaps and bounds this year; we went head first as all new people. We wanted to do everything; there is still more, we haven't done it all yet."
Amy Pietan is co-sponsor of the group.