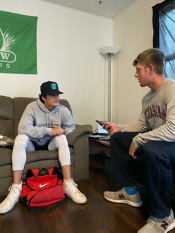 College is a different experience for everyone. With the coronavirus currently ramping throughout the United States and beyond, it is not only a different experience for everyone, but a new one as well.
Incoming freshmen at Allen Community College and across the country are all experiencing the same thing: College after a cancelled senior year. So, how are these freshmen at Allen fitting in to the "normal" life of college?
When Allen freshman Slade Renfrow was asked, he said, "It has been pretty easy to mold into the crowd so far. I have made some good friends on the baseball team and people who help push me to my goals. I wish the school was a little bigger though."
Fellow freshman, Trey Jordan, claimed one of the hardest parts of college is thus far was managing the free time caused by class schedules.
"There is a lot of time between classes because of the flex schedule and it is nice, but it can also take over your day if you let it."
The flex schedule of classes that students are encompassed in this year is also a topic of discussion.
Renfrow said, "It's pretty nice to only have to go once a week for each class. The amount of homework in those classes isn't too bad either. It's good to be able to have more time for my classwork outside of school as well."
One of the main differences freshmen identify between high school and college is the amount of class work, as noted by Renfrow. College has been known to assign more homework in each class than high school, including much more reading.
"The amount of homework is not too bad, honestly," said Jordan. "I had always heard that in college, homework was really bad, but it has been manageable so far."
Overall the consensus was that students are falling into habit and fitting in great thus far. They are enjoying flex schedules and the classes, as well as the amounts of homework. Everyone seems to be enjoying and flexing well in the ACC community.