Roger Campbell: Academic Virtuoso and Living Legend
Confucius said, "Learning without thought is labor lost; thought without learning is perilous."
Allen Community College veteran instructor Roger Campbell holds that statement in high regard when it comes to his teaching. With 38 years under his belt, Campbell has decided to hang up the hat and retire from his professorial career. An Allen instructor since the academic year of 1981-82, Campbell has seen enough on this campus to last several lifetimes.
Campbell recalls that when he first arrived at Allen in the summer of '81, there were only two computers on campus, both located in the main office. At the time of his arrival there was no softball field, activities building or theater building. The only existing structure was the main academic building, the cafeteria, a baseball diamond, and good ol' Horton Hall sitting atop the hill.
Campbell notes the differences in students from "back in the day" compared to now.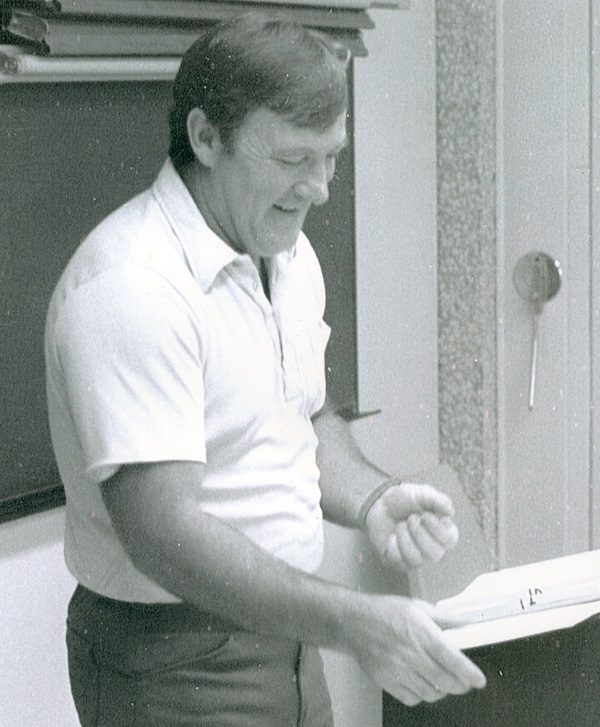 "A lot more was out in the open," said Campbell. "Eighteen-year-olds could legally drink; they just couldn't have alcohol on campus. They could go into the bars in town and have drinks. If I was in there I would sit there and have a drink with my students."
In regard to student behavior, Campbell expressed that before the "Age of the Internet" there was a stronger sense of camaraderie among students.
"In between classes, back before the age of the cell phone or the internet, students would congregate in the fishpond," said Campbell, who also remembers a time when the advising office in the B complex was another fishpond area.
"They'd talk in between class; they'd talk about the class; they'd talk about what was going on. That was their intermingling," he said.
Campbell notes that now, at times, he'll see people sitting four to a table, conversing with people via their cell phones who aren't even in the building.
"
I know that there are folks out there smarter than me and better than me, but I'd still like to think that I've been a good teacher."
— Roger Campbell
"I'll see these students sitting there talking, texting on their telephones, other than communicating with a person across from them," Campbell said. "That has isolated us. We're more technologically connected than we've ever been, but survey after survey shows us that the more time you spend on those technological things, the more isolated a person thinks they are."
Campbell cites the rise of the internet as not only affecting communication of students, but the learning process as well. In former days, if a research paper needed to be written, a student would have to go to the library, check from the card catalog for books, find the books, read the books, and write information down from said books. Whereas now, a student can easily access a plethora of research sources across Allen's library page.
When questioned on his opinion as to whether or not this ease of information is positive or negative, he responded: "Only history is going to tell. Myself, I don't think it's that good. Students are not necessarily going through the process of learning. What they're doing is memorizing information for a minute, and then it's gone once the paper's done. My tests over the years show this."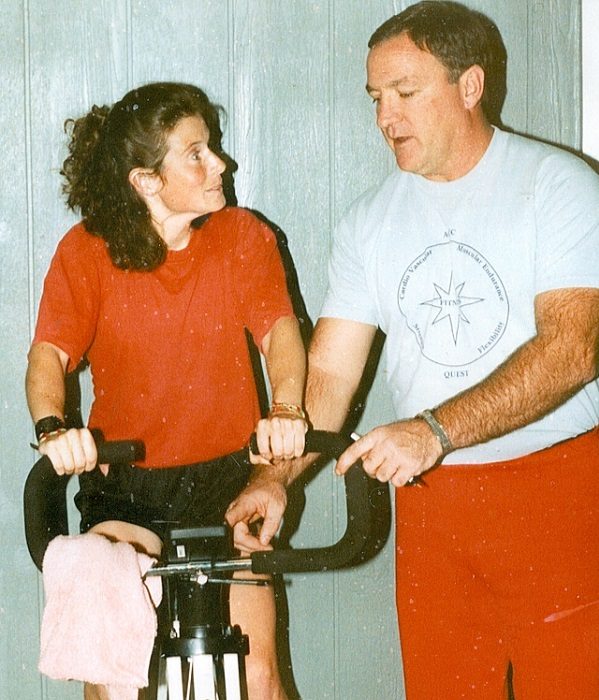 Campbell isn't only an instructor; he was also a well respected and highly effective athletics coach, leading the cross country and track teams from 1981-93 and, after opening up the fitness center on campus, becoming the fitness director. Back then, when Allen wasn't able to grant as many scholarships as it does now, teams primarily consisted of local people and those who lived close to Iola.
"
Did I win a lot of regionals? No, but I won a lot of Eastern Jayhawk Conference (titles) with just good ol' Kansas kids, and I had a lot of fun doing it."
— Roger Campbell
"I found that there were a lot of these kids with a lot of talent." recalled Campbell. "Did I win a lot of regionals? No, but I won a lot of Eastern Jayhawk Conference (titles) with just good ol' Kansas kids, and I had a lot of fun doing it."
According to Campbell, the decision to retire from coaching was one as simple as, "It's time for me to be out of this." Campbell said he was running himself ragged in the attempt to balance his duties as a teacher and coach with his desire to be with his family. To Campbell, his teaching and familial duties overruled that of his coaching duties.
Now, at the end of his teaching career, Campbell has the chance to look back and reflect upon his actions at the college. When asked to grade his career on the standard letter grade scale, Campbell confidently rated himself a B+.
"I know that there are folks out there smarter than me and better than me, but I'd still like to think that I've been a good teacher," said Campbell. "I guess only my students can really grade me on how I did."