Latest Travels Bring Teacher to Allen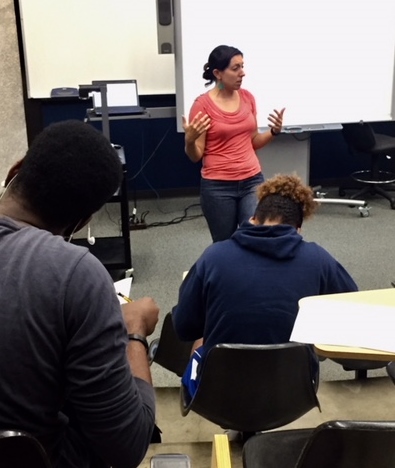 Hang on for a minute...we're trying to find some more stories you might like.
Allen Community College has welcomed many new faces to their staff this year, including Katie Mitchell, the new sociology and anthropology professor. Mitchell is from Soleland, a small town in Southeastern Iowa, where she spent her childhood. She then went on to attend the University of Kansas. While attending KU, she received her undergraduate degree then later went into teaching kindergarten and middle school on the border of Texas and Mexico.
After a few years of teaching Mitchell joined the Peace Corps, where she spent three years in Nicaragua. After returning to the U.S., she attended Iowa University, where she was able to receive her master's degree in sociology.
"
"I'm very excited to start my first year at Allen, and I'm ready to see how I can help students progress throughout the 2017-2018 school year.""
— Katie Mitchell, Sociology and Anthropology Professor
"Anthropology and sociology are very similar in a lot of ways," said Mitchell, "I've wanted to study anthropology since I was younger because I loved the idea of culture, different people, and what makes us behave the way we do."
After receiving her graduate degree, Mitchell had a goal of teaching at a community college, and is excited to start putting her goals into action.
"My number one goal is to adjust where I am and where the students are so that our expectations and work levels match," said Mitchell. "Another goal of mine is to get students excited and interested in sociology and anthropology, so if students do latch onto one of these subjects they can further their education in these studies."
Aside from sociology and anthropology, Mitchell enjoys a variety of hobbies in her free time, but especially loves traveling. In fact, she spent her early years of teaching living on the border of Texas and Mexico. In addition to her trip to Nicaragua with the Peace Corps, she has also been to many other places around the world. Mitchell spent some time studying abroad in Costa Rica and Nepal.
Along with her traveling Mitchell also loves spending time outdoors hiking, camping or walking her dogs. Aside from her outdoor adventures, she's a proud bookworm and loves watching college basketball. Sticking to her roots, Mitchell cheers for Iowa University but is said to have become a KU basketball fan over the years.
"I'm very excited to start my first year at Allen, and I'm ready to see how I can help students progress throughout the 2017-2018 school year."