Allen Math Teacher's First Career USAF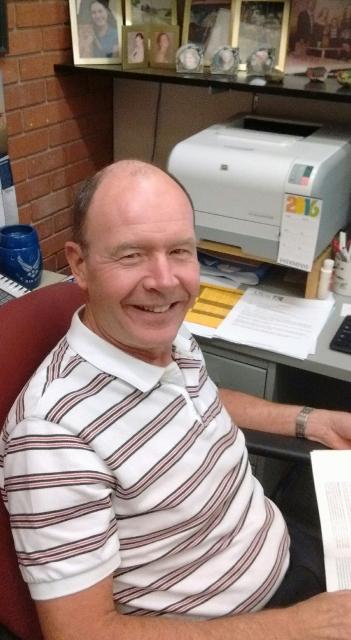 Nathan Woodruff, Sports Editor
October 17, 2016
Iola has a number of notable figures, including Gen. Frederick Funston, Dean Hargrove, the mystery novelist and television producer, and Johnny Adams, the world-class jockey from the middle of the Twentieth Century.
At Allen Community College, we have a hero right here in our midst, a man who character and charm precedes him: Walt Regehr. Mr. Regehr was born in Iola in 1951. Throughout his childhood, Regehr wanted to fly, and fly he would.
There were some minor setbacks. At the age of 16, he decided to purchase a car instead of buying a pilot's license. He would then attend Allen County Community Junior College, at the brand new campus built in 1970, but he hadn't quit on his dream to fly. In 1973, however, he was finally able to begin his dream when he joined the United States Air Force.
This would be the beginning of a 22-year adventure. Regehr was stationed in bases all across the world. He served in Oklahoma and Fort Walton Florida at home, and he was stationed abroad in Holland, at Ramstein Air Base in Germany, and in Korea. In accordance with the United Nations, his job at the latter post was to monitor the planning of the Korean Air force, and to engage in military exercises with UN member nations.
In Holland and Germany, however, the environment was a little more tense. He and his comrades flew training missions precariously close to East German lines. The objective was to not get shot down over territory controlled by the former Soviet Union, or it could spark an international incident. Every so often they would run a drill where pilots had to be fully armed and fully equipped in five minutes in case of a Soviet assault.
As he recalls, Regehr's time in Europe was very enjoyable, and he met a wide cast of characters. At Ramstein, the American lieutenant colonel played piano for Pat Boone's TV show. The Canadian colonel in Holland played Sparky's little brother on the original "Little Rascals." Regehr also met famous actor and comedian Redd Foxx, who was playing a game of pool at an alert facility in Holland. He also met then Air Force Chief of Staff Ronald R. Fogleman.
Regehr said his favorite plane to fly was the F-15. Despite his love for the fighter jet, the plane he probably knew the best was the F-22, for which he helped developed the software. He also served as a math instructor for many of the men stationed at his posts.
Being a math instructor was Regehr's other passion. After retiring from the Air Force in 1996, Regehr saw an advertisement in the newspaper for a teaching job at Neosho Community College in Chanute. He would teach there for two years before returning to his alma mater, Allen County.
"I always wanted to give back to the community that had given me so much," Regehr said, and he's done that for the college, its students and his community for the past 18 years.