Family Reading Festival For College Students, Too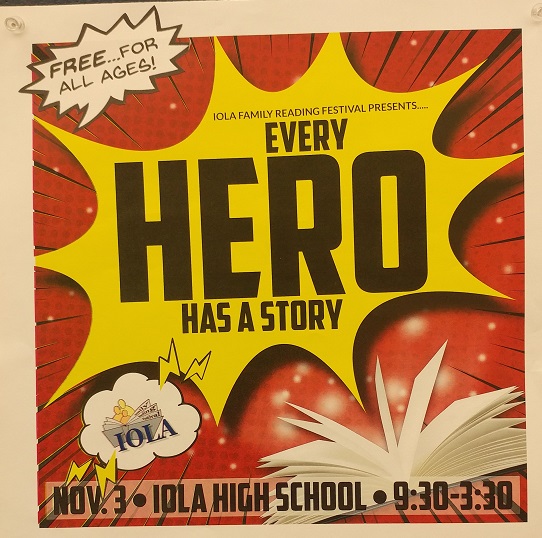 The Iola Family Reading Festival and the Allen Community College theatre program have teamed up to bring Iola a fresh opportunity. Saturday, Nov. 3, from 9:30 a.m. to 3:30 p.m., folks from the surrounding areas are invited to celebrate Every Hero Has a Story. This event will be at Iola High School and is free for all ages.
The Allen Drama Department will be performing from 11 a.m. to noon in the IHS lecture hall. A projected accompaniment will be shown as the actors act out the story.
"The idea is to have four or five student readers that will be in character," Allen theatre professor Tony Piazza said. "For kids, I want it to be like they are watching or hearing an animated cartoon."
There are going to be events running all day that might suit every individual's needs. Children's, teen's, and adult's authors will be there to visit and sign books. Comic book appraisals will be held. The Allen Drama Department will be showcasing a comic book readers theater. Virtual reality expeditions will take place all day.
Along with the meet and greets, there are many more things happening that day. Cosplaying is encouraged, so dress up as a favorite hero. A prize drawing will be awarded for the best costume of the day if it is entered into the contest. Raffle baskets will be given away, so make sure to enter for those, as well. Concessions will be available for purchase.
For younger children, an obstacle course will be provided to let some of that energy out. They can also meet Paw Patrol's Chase and Marshall, along with a multitude of superheroes. Speaking of superheroes, children can partake in superhero training and test their hands at what it takes to be one. Make-n-take craft stations will be available to show off artistic skills. Various storytimes will be ongoing throughout the day.