Piazzas Bid Farewell to Allen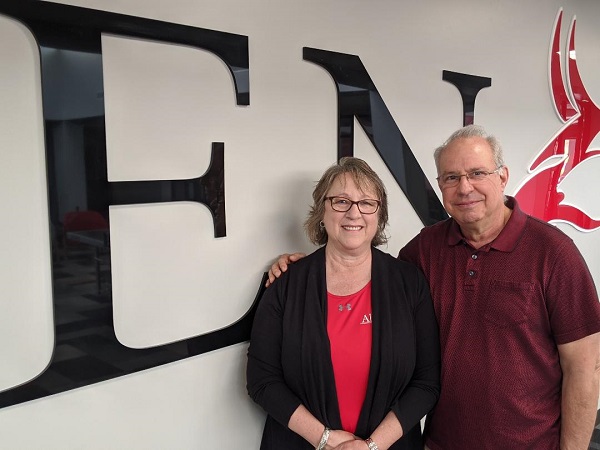 This spring Allen Community College will be saying farewell to two longtime instructors, Tony and Terri Piazza. The coronavirus reality and response has made this bittersweet time of departure for them even more so, but it's also accentuated the family aspect of working at the college.
"This is certainly not how we envisioned ending our academic career," Terri Piazza said.
"The students are the whole reason I love my job. Now, I miss the energy and spontaneity of working with students and their ideas or questions. I miss the active learning, discussions and group projects that take place in the classroom. I miss their personalities and those 'ah-ha' moments.
"I am fortunate that I teach public speaking because at least I still get to see those students' faces when they post their speech videos," she added. "But students have been real troopers about continuing their classes online."
"
This is certainly not how we envisioned ending our academic career.
— Terri Piazza, on retirement and the coronavirus
The different atmosphere isn't limited to her classroom, Terri noted.
"I miss my work friends. Thank goodness for texting and Facebook," she said. "I still hope to have the chance to see everyone again soon so that we can say goodbye."
The disruption caused Tony to miss directing his scheduled final play for the college.
"It's sad. We had a good show (A Midsummer Night's Dream, which was the first play
Allen presented as a college) and a really good cast," he said.
"More than just being sad for myself, though, I was sad for the kids and this being the last time some of them might be on stage in college. But when I got to thinking about the missed graduations and the other things that are resulting from all of this, it was a disappointment but not that big in the grand scheme of things," Tony said.
He has been pleased with how the Allen faculty and staff – and especially students – have adapted to the changes required this spring in moving classes entirely to an online format.
"We had a real challenge in not being able to resume as normal after spring break, and the college and students have met that challenge," he said. "It's been a change, but in a lot of ways we're going to be the better for it in learning and using technology and just accommodating what's been needed."
THE PIAZZAS came to Iola and Allen Community College at the tail-end of the 20th century.
Tony Piazza is the theatre director, as well as a drama and communication instructor. He received his bachelor's degree at the University of California and his master's at San Diego State University. He began working at Allen in 1999, with 2020 being his 21st year.
Tony has always been passionate about theatre; during his time at Allen he has staged 105 shows and directed approximately 60.
"My fulfillment here is seeing the students take what they learn and use it in their future," Tony said. "Skills that are learned in communications and theatre are skills that can be applied forever."
In retirement, he plans on continuing his education and taking college courses while spending time gardening, cooking, and continuing his passion with theatre.
TERRI PIAZZA is a communication and theatre instructor, as well. She received her bachelor's at Southwest Missouri State University and her master's degree at Pittsburg State University.
From 2003 through 2008 she was assistant theatre director at Allen and directed almost a dozen of her own shows. From 2008 to 2016 she served as fine arts and communication division chair. This was her 20th year at Allen.
She has added classes to the communication curriculum, such as interpersonal communication, reporting, news practicum and film.
Terri proposed the idea of The Allen Flame online student newspaper and made it happen with the help of Bruce Symes as instructor for news practicum the past eight years.
"Allen has been good to us," she said. "The board is very supportive of us and our programs."
She has always hoped to leave students of Allen with some advice: "Find your passion, and enjoy what you do."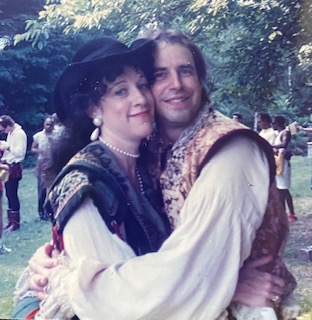 As the Piazzas move into retirement they have plans to travel and see the world. As a young couple, they enjoyed finding acting gigs together. They are now able to continue their passion after successful decades at Allen.
They describe this time of departure as "bittersweet." They recall never having a bad year at Allen, and connecting with students and watching them grow was very rewarding.
Returning to the virus reality of spring 2020 and the changes it brought for the couple's last semester in their professions, Terri puts things in perspective.
"This is an historical global crisis," she said. "There have been worse disruptions than this current pandemic and at least we know it will end. We will have parties again. We will travel, eventually. We will hear students complain about going to class.
"We are fortunate to be living at a time, though, when education doesn't have to be disrupted, thanks to technology," she continued. "And we are reminded every day in the news that education must continue for the greater good of our world. I am proud to have been a small part of this important work."